Easter Clothing at The Children's Place
When it comes to holiday I like to spend a few extra bucks for the kids to have outfits for the special holiday. Since many times we go to church on Easter I also want them to have cute outfits that are acceptable to wear to church plus an outfit that they can run around doing an egg hunt and other Easter activities in later on in the day. So when we were contacted  about checking out the Easter Clothing at Children's Place we were excited. McKenzie has started voicing her opinion on style and I like to make it so they somewhat match each other.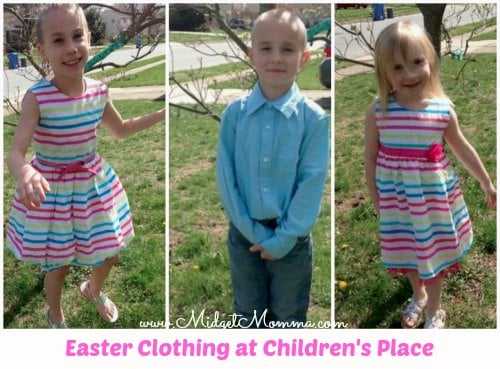 I was looking for Easter Clothing at The Children's Place and found that they have some really cute dresses for girls that are McKenzies age and they have dresses that are similar for the younger girls. Perfect! I showed them to the girls and they both loved them! They are the same pattern but the style is a little bit different for each dress, which makes them age appropriate for both girls. McKenzie does not feel like her dress is babyish and Alyssa feels like a big girl wearing a dress that matches her older sister and I am happy because they both match!
Finding clothing for Logan tends to be the hardest part but when shopping for Easter clothing at The Children's Place I was easily able to find him a blue collared shirt that matches the blue in the girl's dresses perfectly. He prefers to wear jeans or khakis and with this shirt he can wear either one and a pair of dress shoes and he is ready to go.
Of course the girls wanted new shoes, (what am I saying they always want new shoes LOL) and I found super cute silver sandals that are a little bit different style for each age group but they look great with the dresses and just like with the dresses McKenzie does not feel like her dress is babyish and Alyssa feels like a big girl because she has shoes like her older sister!
You can check out all the Easter styles that The Children's Place has for this year here or instore.
Disclaimer: We were provided a gift card to go shopping and find some Easter clothing at the Children's Place, no compensation was received and all opinions are 100% my own.
Join the newsletter
Subscribe to get our latest content by email.