Schedules are crazy busy and dinner ends up being the time that I freak out when I forget to pull something from the freezer to defrost and I figured I am not alone so to help all of you I am doing an Easy dinner series 🙂  These recipes will also be budget friendly and most of the time you probably have it already in your pantry to make it 🙂 Be on the look out for more easy dinners on a budget as I have more coming soon 🙂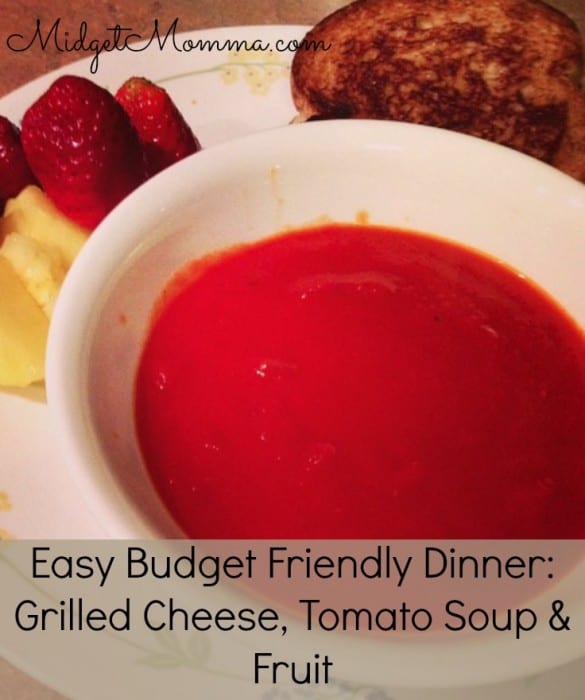 Easy Dinner on a budget
Grilled Cheese, Tomato Soup and Fruit
What you need (this fed our family of 5)
Bread – 10 slices ($1)
Cheese – 5 slices ($0.50 – I buy the deli cheese at $5.99 a pound and it gets me about 30 slices of cheese)
Tomato soup – 2 cans (.50 – $1 a can) You can also use this  homemade tomato soup recipe to make tomato soup ahead of time when you are doing your meal planning if you are not wanting to use canned.
Fruit – go with what is in season and cheapest. I found pineapple on sale for $1.99 and the kids had begged me for Strawberries this week so I splurged and paid the $2.99 for the 1 pound container 🙂 You could do any fruit, bananas, oranges, blueberries, kiwi ect.
Total Cost: between $5 – $8 depending on what fruit you buy and the price you pay for bread, cheese and soup however keeping an eye out for sales and using coupons will make this meal even cheaper 🙂
Join the newsletter
Subscribe to get our latest content by email.
This post may contain affiliate links. Please read my disclosure policy here