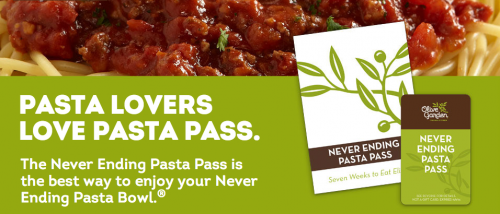 Ok if you are a fan of Olive Garden you are going to like this one, but you are going to have to act fast as there are only 1,000 of them and it goes live at 3pm!
Olive garden has a new All you can eat pass where you can get 7 weeks of Never Ending Pasta Bowl® as many times as you like for only $100! 
The Never Ending Pasta Pass can be used any day of the week or every day of the week from September 22- November 9

Enjoy more than 150 combinations of pasta, sauce and toppings

Unlimited Coca-Cola® soft drinks for you and same-table guests
Head on over here at 3pm to get yours!!
This post may contain affiliate links. Please read my disclosure policy
here