This weekend, we had my son's 7th birthday party.  The theme was Dr. Seuss and we had a blast!  This was my first big kid's party and I had visions of my parties when I was a kid running thru my head.  My mom was always super creative – for instance, she made Conastoga Wagon mini loaf cakes for my Western Party, which is well beyond anything I would have dreamed up or been able to create!  So I set off on this party endeavor with very high expectations of myself, and I think it turned out pretty well!  It started with the invitations: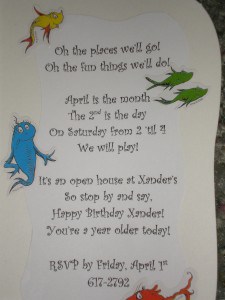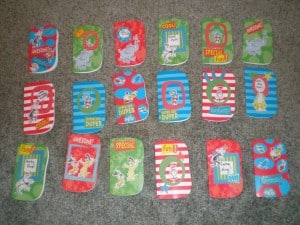 MY LATEST VIDEOS
My favorite part was the cupcakes, which was an idea I got from another blog on the internet called Kitchen DoughDough – she has some amazing cupcakes on that site!  They turned out like this: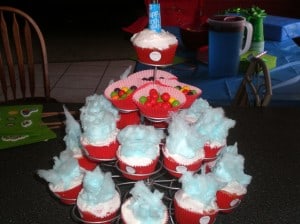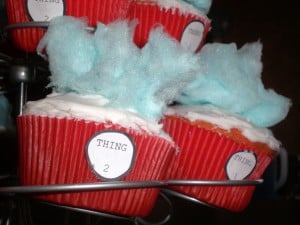 We had four different games – a Fox in Sox relay where they had to put socks on their hands and feet and run on all fours, a carry the 'speck' on a spoon relay, get the fish back in the fish bowl (a tribute to that poor fish in Cat in the Hat!) and a pin the Eggs on the Tray game, which I managed to draw by hand – glad it came out well!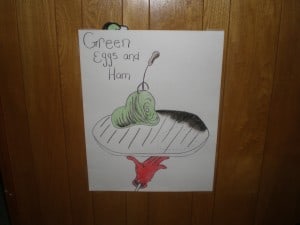 I of course still needed gift bags.  And as per Frugal Living rules, you really want to have as little name brand product as possible because it's a lot cheaper to buy red plates then it is to buy Cat in the Hat plates!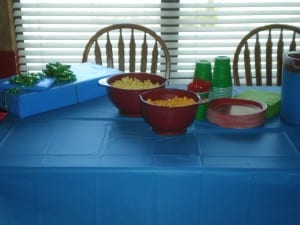 But I still really wanted them to go home with something that was really Dr. Seuss.  So I went on the hunt for Goodie Bags and found these at ecopartytime.com: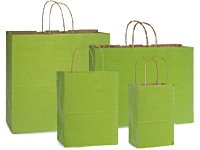 I fell in love them instantly – they are just that perfect 'Green Eggs and Ham' green, plus they are made out of recycled paper PLUS they are much sturdier than the typical plastic bag goody bag.  I showed them to my son who (he must take after my mom) had a brilliant brainstorm!  "Let's get those Mommy and then we can decorate our own bags".  Wow, what an awesome idea.  I had managed to scoop up some Dr. Seuss art supplies on sale at Michael's before I had any idea what I would do with them.  Part of the supplies I picked up?  Dr. Seuss alphabet stickers and foam character stickers…perfect.  now the kids would have something to do while we waited for everyone to come!  Here's how they turned out: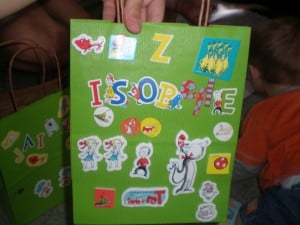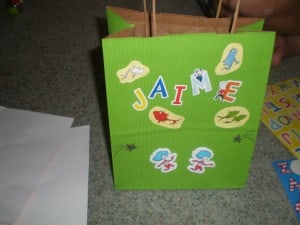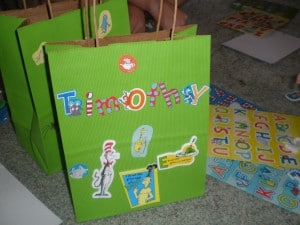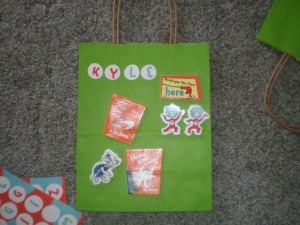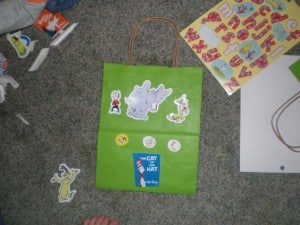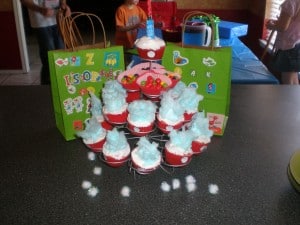 They came out GREAT!  And my daughter made her own as well and is still carrying it everywhere like a purse!  They are very heavy-duty.  I have some left over and I've been thinking about ways to use them – I think they will make great hand puppets, or lunch bags, or a gift bag for that birthday party my son is going to on Saturday!  And at only $.68 cents to $1.09 a piece, these are ALOT cheaper than those overpriced gift bags at the store that will cost you $5 bucks just to have Hannah Montana on the front!  AND they are eco-friendly!  You really can't beat that!  Ecopartytime.com has so many great things on their website including Plantable Seed Paper thank you cards to send out after the party!  They will remember your party forever when the flowers begin to grow!
BUY IT:
You can stock up on your own great eco-friendly party supplies at www.EcoPartyTime.com!
WIN IT:
One lucky Luxury Living reader will win a $25 gift card to ecopartytime!
Mandatory Entry:
Visit the EcoPartyTime website and tell me what party supply is YOUR favorite and why!
Extra Entries:
Mandatory Entry must be completed, leave a separate comment for each entry; leave ID and links in comment
■'Like' EcoPartyTime on Facebook-1 entry
■Follow Luxury Living Frugal Style with Google Friend Connect-1 entry
■"Like" Luxury Living Frugal Style on Facebook– 1 entry
■Follow Luxury Living Frugal Style on Twitter and Tweet #giveaway for $25 GC @EcoPartyTime @MidgetMomma1200 https://www.midgetmomma.com/2011/04/eco-party-time/.html -1 entry per day
■Follow EcoPartyTime on Twitter-1 entry
■Subscribe via e-mail (must verify)-1 entry
Giveaway Rules
This giveaway is open to US residents who are 18 years old This giveaway will end on April 19th at 11:59PM EST Winner will be selected at random and contacted by e-mail and will have 48 hours to reply to contact e-mail or a new winner will be picked. The sponsor of this giveaway is responsible for prize fulfillment.
Disclaimer: I was provided product to facilitate this review, I was not compensated for this review. All opinions are my own.
This post may contain affiliate links. Please read my disclosure policy here