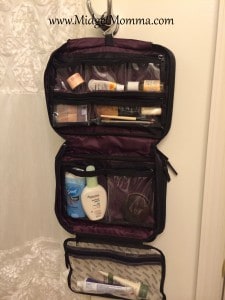 Emme has sent me this great new bag to review. This is a great toiletry bag! I got it just in time to use for the hospital and it was very handy. There wasn't any space in the bathroom to place all my different toiletry's but they had three different hanging hocks. Luckily the bag has a handy hanger so I was able to hang up my stuff. All of the nurse loved this bag and wanted one of there own.
This bag comes with so many compartments! I know for our up coming trip to Disney I will be using this bag. With so many compartment I will be able to fit all my toiletry's plus the rest of my families stuff. It also comes travel size containers. They are all correct sizes for carrying on a plane if you need to place it in your carry on. It folded flat so it would fit into my suitcase but then you unzip it and it folds down. Since it unzips flat it makes it easy to get through TSA.
When I first got this bag my husband quickly came over and asked me what I was going to do with it. I didn't get his question at first. I mean what would I do with a bag. Well he was trying to hint that he wanted it. He started to talk about all the different things he could keep in the different pockets. Since he is in the military he is always traveling so it was something he was really excited for. I figured I would be a good wife and let him use it but I told him I get to use it when we go on vacation. Luckily it is large enough to hold both of our stuff.
Disclaimer: We received this product to facilitate our review. No compensation was received and all opinions are 100% my own.