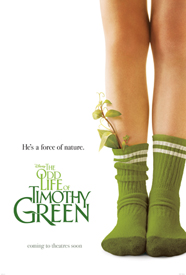 The Odd Life of Timothy Green comes to theaters in just a few weeks. It looks like it is going to be a great date night movie. I think hubby and I will be going to see it 🙂
Synopsis:
The Odd Life of Timothy Green is about a happily married couple, Cindy and Jim Green who are excited to start a family of their own and have dreams of what their child is going to be like. When all of a sudden a young Timothy shows up on their door step Cindy and Jim and their small town learn that sometimes what is unexpected can bring some of the best gifts we get in life.
Check out this video clip from the movie.
This post may contain affiliate links. Please read my disclosure policy here