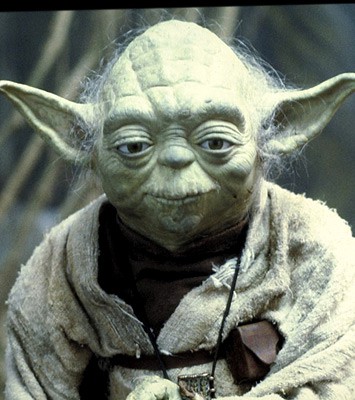 I don't know if any of you have seen the "news" floating around the web today, but it news that is SUPER exciting to me! Disney bought LucasFilms and well that is not the exciting part, the exciting part is that there are going to be NEW Star Wars Movies!!!! Star Wars Episode 7 is rumored to be coming out sometime in 2015 and I am jumping around excited. I made a trip over to Twitter and my feed was FULL with this news!!!
I will let you all in on a little secret, I am a HUGE Star Wars fan and an even bigger fan of Yoda!! I know I know I don't come off as the "geeky" type but when it comes to Star Wars that is where my inner geek lays. When I was in middle school I was Yoda (because we all know he is the coolest of the Star Wars characters) for Halloween. I still have the mask somewhere in a box in my house being protected from little hands being able to ruin it;) I have already shared the Star Wars movies with my kids and now I will get to experience the new movies with them!!!!
Who else is super excited about this???
Thanks deadline.com and Photo Credit