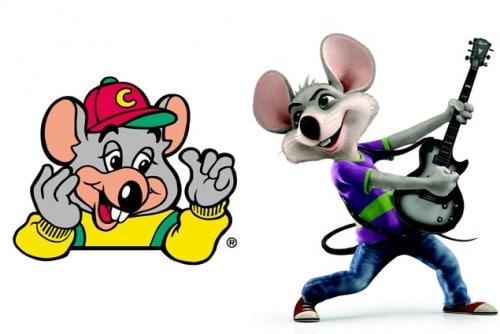 So I was wondering around the internet last night and on facebook and saw that a friend of mine posted that Chuck E. Cheese is getting a new mascot! I kinda hate being the bearer of bad news to all of you that know and love the old one, but he is leaving 🙁 That makes me sad, what makes me even sadder is the new one that they will be using……he is kinda creepy looking to me!
I remember going to Chuck E. Cheese as a kid and it was a TON of fun! It was a treat for us, the closest one was about an hour away and I remember my sisters and I getting excited when our parents told us we were going there. My favorite thing to play was skeeball, even if I hardly ever got it in the high points whole. When I found out I was pregnant with my oldest daughter I told my husband I was looking forward to taking her there too but sadly the first time we went it was not what it used to be. No longer were you getting tickets for your skills but every single game gave the same amount of tickets no matter how good or bad you scored. Now I get why they made the changes, saves them money and kids feel better when they get tickets but it seemed to take the fun out of it. As a kid I remembered cool prizes to pick from, and it was hard to pick because I could not decide what I wanted to get with my tickets because there was so much to choose from. When we went with my daughter it took her forever to pick and not because of the quantity of prizes but because of the lack there of.
We have only been back 3 times since I first took my daughter 5 years ago, and none of the times were any better then the first time we went. I am thankful that my kids are more interested in playing in the climbing thing that our local one has then having me spend money on tokens so they can earn prizes. What makes it even worse is that I still have a bag of tokens sitting in my kitchen drawer that have been there for over a year and no plans to go back because I know it will entail us having to go to the counter to ask for new tokens because a machine ate the one we put in and then a fight at the end of the trip because they have tickets and don't like anything in the case to pick from.
I read that they are changing the face of Chuck E. Cheese so that they can try to appeal to new customers and the younger generations but honestly I think that they should put those dollars into changing the things inside the facilities, like the games and how many tickets you get, the price of the prizes, and better prizes and that will bring people in, not changing the face that many of us know as a kid. Bring back the fun we all had a kid and that will have us bringing our kids in to a place that we have fun memories of.
This post may contain affiliate links. Please read my disclosure policy here