Evenflo Baby Bottle Review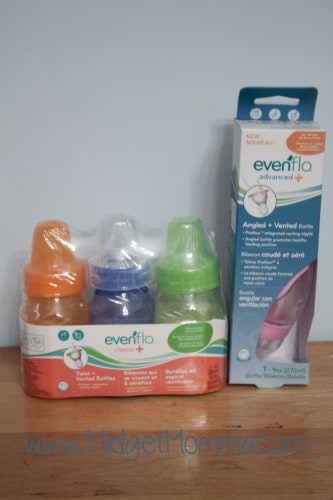 Hello everyone It is Stephanie!!!! Today I am doing a review on Evenflo baby bottles. The evenflo bottles I am reviewing are the Evenflo classic Bottles and the Evenflo advanced Bottles.
The Evenflo classic bottles are a great basic bottle. They have the standard neck size so they can easily fit right on to a breast pump. To be able to use that same bottle that you can pump directly in makes things more convenient. They come at a great value price. If you are planning on breast feeding and would like something to have for those times when your are going out for dinner alone, these are great.
The Evenflo advance bottles are the step up from the classic bottles. They have a angle shaped to promote a healthy semi-upright feeding position for the baby. It has a rapid vent helps reduce nipple collapse. The bottles nipple rapidly releases air bubbles into bottle instead of the baby. I have experienced this with another baby bottle and my daughter would get so mad because she was in a roll and than it would all stop. So to have a bottle designed to stop this is a good thing to have.
The great part with both of these bottles is they are easy to clean because they don't have too many pieces. Each bottle only has the nipple, bottle, hood and cap ring. When you are washing bottles all the time having fewer parts make your life simple.
Now one question I always ask myself is, will baby be able to hold this bottle in the future? Each of the Evenflo bottles would be light enough for the baby to grab ahold of. The advance bottle might be easier for the baby to hold in the beginning because of the angle.
Join the newsletter
Subscribe to get our latest content by email.