My sister had a baby in March, making me an aunt and my favorite thing about being an aunt is that I get to spoil my nephew and then send him back home with his parents. As he gets older my sister may want to beat me but hey, that is the point of being an aunt 😉
Even flo sent me the World Explorer Triple Fun Plus ExerSaucer which made me the cool aunt!
First I enlisted in Tom's help to put this bad boy together, this is one heck of an exersaucer, 3 different ways to use it, use all the way up to 24 months, JJ is going to be having a blast for a very long time!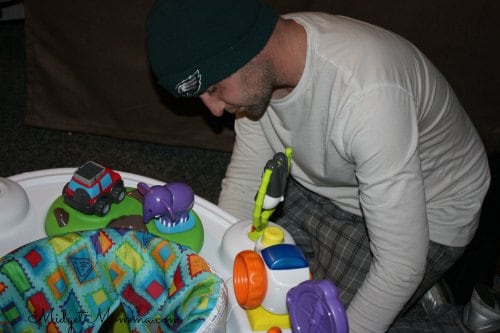 And then it was time to find out what JJ thought about it…. I am pretty sure the pictures speak for themselves 😉
That face! The face of pure baby fun!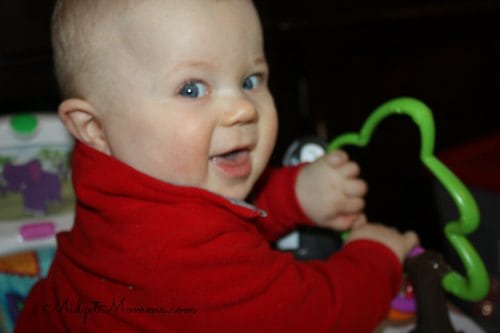 There is so much to do too!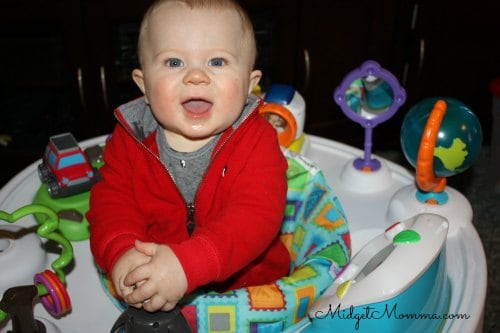 The squeels…. they made this aunt VERY happy!!
You know what else rocks about this World Explorer Triple Fun Plus ExerSaucer? That when you need to put it away or you want to bring it with you somewhere it folds! I totally wish when my kids were babies that they have folding ExerSaucers, it was such a pain to bring my kids with me anywhere we went. You don't even take it apart to fold it, just a quick push on the buttons on the legs and then bam, it folds! Super easy!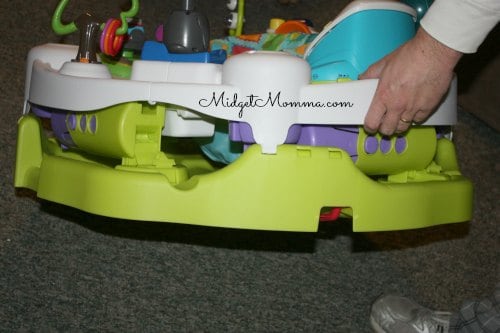 I only see one downside, that is that normally JJ sees me and wants to pick him up when I am around but once we put him in the World Explorer Triple Fun Plus ExerSaucer he didn't even want me to pick him up and snuggle! However for my sister I am sure that is a win because now she will be able to make dinner or take a shower with out worrying that he might get bored and want her!
Plus check out this awesomeness, as JJ gets older it changes to more fun for him!! All the way until he is 24 months!!
And if your baby is still a wee little one, you can use the playmat set up! EvenFlo has thought of everything with this one!
The price tag on the World Explorer Triple Fun Plus ExerSaucer is great to, it is $129.99! And now through December 24 you can print this coupon (When you scroll over the World Explore image, a box will come up that allows you to print the coupon) that will make it just $103.99!! This is sold exclusively at Babies R' Us! This is definitely a must have and will make you the coolest person on their list 😉
Must Know information:
 The new Evenflo® World Explorer Triple Fun Plus+ ExerSaucer® features more than 20 activities designed to help baby learn through play for more than 2 years
 Includes a range of features that expose children to visuals and languages from around the globe
 Features three product stages to grow with your child from birth to age 2:
 Language Pod with 12 scenes in 4 languages – English, French, Spanish and Mandarin
 Play Mat: "See and Touch" Stage (0-4 months)
 Stationary Activity Center: "Move and Bounce" Stage (4-12 months)
 Activity Table: "Create and Play" Stage (12-24 months)
Disclaimer: Thanks EvenFlo for making me the cool aunt! This post is sponsored by EvenFlo. All opinions are 100% my own based on the expressions on little baby JJ's face 🙂