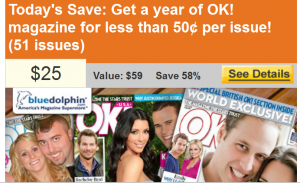 MY LATEST VIDEOS
It's funny how things work out, hubby's subscription to this ended this week!
If you are new to EverSave you will get a $3 credit just for sighing up. And today, May 13,2011 use the code BEWARE to save an additional $2 off ANY save! EverSave is FREE to sign up for and has some really great deals!
Head on over to EverSave and grab this awesome deal on Ok! Magazine. Buying a subscription will save you a lot of money compared to buying it at the store each week, using this save you will save about $180 comparing this price to the store price! With this save you are paying just .39 an issue compared to almost $4 an issue in the store thats a 90% savings!
To score this deal head on over here and sign up for an EverSave Account, and use the $2 off any save code BEWARE
Fine Print:
Limit 3 of this save
Code can be used immediately after purchase, you will redeem the code through BlueDolphin-magazines.com/Redeem/Eversave 1 code per redemption
FREE Shipping
You can use this code to renew a current subscription as long as the address is the same
Promotion value expires August 13,2011
Disclaimer:My referral link is included in this post, if you do not feel comfortable using my referral link please visit the site. We appreciate the support of you using our referral links:)
This post may contain affiliate links. Please read my disclosure policy here