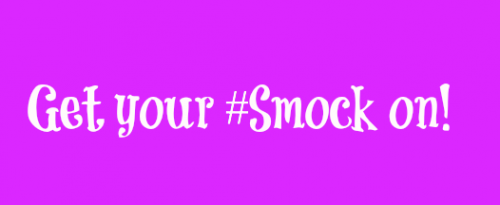 Ok so I am sure you are all reading that title and saying, Lauren what in the world is a #SMOCK and why do I need to do it? Well I am going to tell you 🙂 Of course I am but you know that already lol.
#SMOCK Stands for:
 Simple
Moments
Of
Contagious
Kindness
What do you need to do? You need to #SMOCK people, why because its something fun and it will bring a HUGE Smile to someone's face! Kindness is contagious and can greatly help the world!
Tom and I did the #MMBackpackParty a few weeks ago and while we helped more then one person that day the smiles that people gave us when we gave them a bag of school supplies made my heart smile. It doesn't have to be big, something small for just one person you know will make a world a difference. You never know who is having a rough day and a few minutes of your time can make all the difference 🙂
So now I want you to go out and SMOCK people, Do something nice for someone. Hold open a door. Buy someone lunch. Rescue a puppy. JUST BECAUSE. And take a photo or video of yourself doing it. Why? BECAUSE KINDNESS IS CONTAGIOUS!!!!!
Here are some ideas to get you started on your #SMOCKING
pay for the person behind you in the drive threw lines order
bring food to a person you know is having a hard time
help someone carry their groceries to their car
bring the cart back to the cart lines at the grocery store
bring a coffee lover some coffee
hold the door open for people at the store
bring extra school supplies to your kids school for those in need
bring a new mom a meal
send someone a handwritten note or card
This post may contain affiliate links. Please read my disclosure policy here