It is not a secret to any of you that I work ALOT, and because of this when we have family time it is important to me that it is quality time together. Time where we can all have fun together as a family. Many times that includes going to a movie which is one of our favorite things to do, and go out to dinner. However because I sit for the majority of the time I am working (well unless I am cooking dinner and standing while working 😉 ), I am looking for more activities and family time that will get us moving.
Killerspin reached out to me about partnering together and it was perfect timing! I had been brainstorming ways to get us more active during family time. Bike riding was out because Hannah is still so tiny. Walks were about to be out because it is really cold here in the Poconos during the winter, ok really most outside activities are about to be out because of the cold. But I want to keep us moving, I want us to unplug, laugh talk and have fun when we can. I am ready for the warm weather to be here all the time but I wanted something that would keep us active, involved and off electronics while we had the cold months.
KillerSpin's solution – Ping Pong! Tom thought I was a little bit crazy when I told him that a ping pong table was on its way to our house. Not only that but that I fully intended on putting it in the playroom and him being the one to put it together- as soon as it arrived none the less 🙂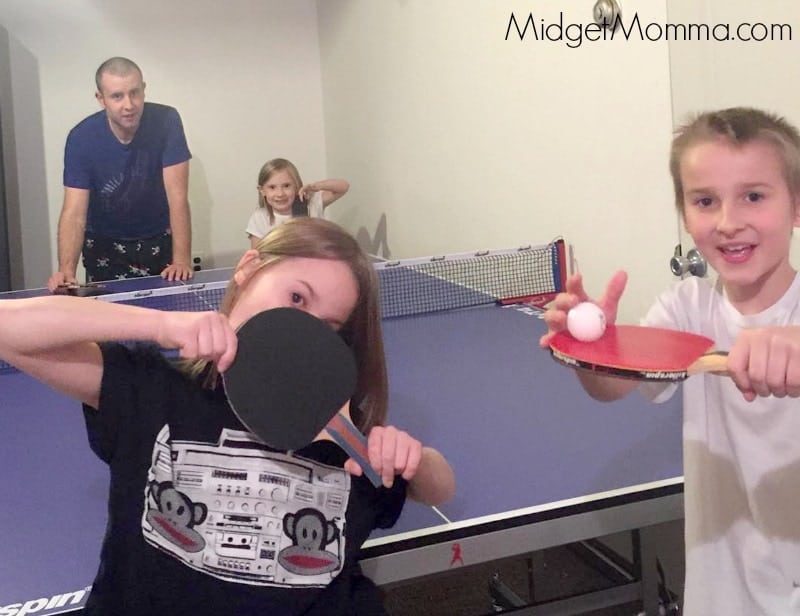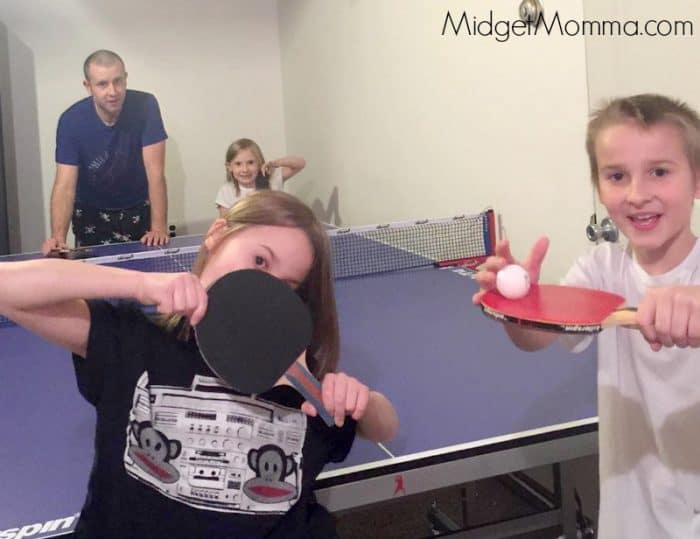 I helped him bring it downstairs and when I went downstairs to check on his progress about 20 minutes later it was totally put together. Tom said it was easy-peasy putting it together and the instructions were super easy to follow!
The older three kids got home from hanging out with my parents and with in about 30 seconds of knowing that they now had a ping pong table in the playroom they were begging to try it out!
With in minutes of getting downstairs it was laughter and fun while everyone tried to figure out exactly how to play. We are still working on mastering the skills needed but we have lots of time to do that while we enjoy hanging out with one another.
This is what is important to me, times like this and I am so excited for a brand that sees things the way I do! We have had a blast the last few months playing ping pong as a family. I have also many times caught the kids downstairs themselves playing instead of picking up the controller to play a video game. I love it! I don't mind video games and electronics but I do want the kids to have variation in their activities and get moving even when we can't go outside.
KillerSpin Ping Pong Tables are the PERFECT solution for us as a family! If you are looking for a way to have lots of family active fun inside and to break up the electronic time I highly suggest getting a ping pong table. Although I will warn you – if the kids have never played before there might be a lot of laughs when people end up hitting themselves in the face with the balls and not the table 😉
Disclaimer: We partnered with KillerSpin. All opinions are 100% my own.