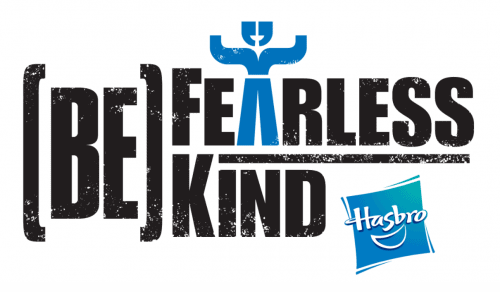 I am SUPER excited about the newest campaign that I have partnered with Hasbro on, I am officially a Hasbro Kindness Ambassador and get to help Hasbro in their efforts to help spread kindness. I couldn't think of a better campaign to join in on, a company that I love and have in my home that also lines up with my feelings and outlook on life.
One big thing I emphasize to my kids often is "doing the right thing", the right thing might not always be the popular choice at times but it is important. It is important for kids to be kind, and at times stand up for those who can not stand up for themselves. It is important for kids to be understanding of others and treat everyone with kindness.
As parents it is our job to teach our children, and it is important that we teach our kids to be kind hearted, and loving.
Hasbro has their newest initiative, BE FEARLESS BE KIND to inspire and empower kids to have the compassion, empathy and courage to stand up for others and be inclusive throughout their lives. I am so excited to be a part of it!
At the root of many of today's biggest issues is a lack of empathy, especially those that affect kids. Bullying is on the rise. Kids who feel isolated are acting out in devastating ways. Empathy is the key to building a kinder generation. I have seen it first hand in my kids school.
We have dealt with bullying, McKenzie was bullied for months when she was in elementary school. At the end of it, when I finally had a chance to talk to the other child's family we learned that the little girl was living with her grandmother. She was having a hard time and had been extremely upset that her mom didn't want her to live with her even though all of her other siblings lived with their mom. In turn the little girl was hurt, and took to bullying because of it. I wish that the course of action had been sitting down and trying to figure out the WHY vs the school just punishing the little girl because I am sure the bullying would have stopped MUCH sooner!
While McKenzie was the one being bullied by the girl, she still felt bad for her and wanted to make her feel better. McKenzie told me later on that "it must be hard to have your mom not want you" so she understood the WHY of the little girls actions. Even though she was the one being bullied, she had empathy for the little girl. McKenzie and I have had talks about how things could have been different and how bullying is not ok but that the cause of someone being a bully is not because they are just wanting to be mean and that there is an underlying issue going on that causes them to be that way. I have discussed with her how to stand up for herself to a bully with out being mean and doing the same types of things the bully did.
With BE FEARLESS BE KIND, the goal is to use the assets Hasbro has to elevate this issue and provide any resources they can to help parents and kids with the ultimate goal of building a kinder generation. A generation where all kids are included; where differences are appreciated; where empathy and compassion are nurtured in kids, and they get the feeling of fulfilment that comes with doing the right thing.
There is sooo much information that is perfect for helping parents and schools on the Hasbro Be Fearless Be Kind website – make sure you also check out the Empathy Resource Page
Join me to be a part of the BE FEARLESS BE KIND campaign, spread the word make a change in the world!
Plus join me on November 1st at 2pm EST  for a fun twitter party! Eight Hasbro prize packs will be given away!!! The hashtags are #BFBK and #Bekind and @socialgoodmoms will be the host.
One MidgetMomma Reader is going to win a $50 Hasbro toys & games prize pack Giveaway
How to Enter:
Leave a separate comment for each entry.
Mandatory Entries:
Tell my what you plan on doing to help spread the word of being kind.
Sign up for my daily newsletter here  so you never miss anything
Extra Entries:
Follow me on Pinterest – 1 entry
Follow me on YouTube – 1 entry
Follow Me on Instagram – 1 entry
Tweet – I want to win $50 @Hasbro toys & games prize pack Giveaway https://www.midgetmomma.com/?p=163007 #BFBK  #MidgetMomma  – 5 entries per day, entries must be 2 hours apart
Make me your Personal Shopper (100% FREE and I can help you save even more money) – 1 entry
Follow MidgetMomma on Twitter  – 1 entry
Follow MidgetMomma on Periscope – 1 entry
Follow Tom on Instagram – 1 entry
Follow Tom on Periscope – 1 entry
Follow Tom on Twitter – 1 entry
Giveaway Rules:
No purchase necessary to enter, leave a separate comment for each entry method. This giveaway is not associated with any of the entry methods. This giveaway will run till 11:59 PM EST November 5, 2016. The winner(s) will be picked using And the winner is (a random winner picker) and will be announced in a new blog post. Giveaway is open to US residents who are 18 years or older. By entering this giveaway you are giving consent to be added to the MidgetMomma daily newsletter. Winner will be contacted and have 48 hours to reply to contact e-mail or the prize is forfeited. Open to US mailing addresses only. Prizing and samples courtesy of Hasbro. 
Disclaimer: This post is sponsored by Hasbro. All opinions are 100% my own.