Do you have monsters in your house? We do according to my 2.5 year old and that is why she can not always go to bed at night. You see the monsters in our house are not "normal" monsters that hide in the closet or under the bed they hide everywhere in her and my sons room, in the blankets, under the rug, in the drawer in the toy kitchen and there is only one thing that stops them from coming out at night….
Monster Spray! and guess what I bet most of you have this at home too and trust me it gets rid of the monsters pretty quickly! (Glade works just as well but our monsters are affected more by Febreeze 😉 )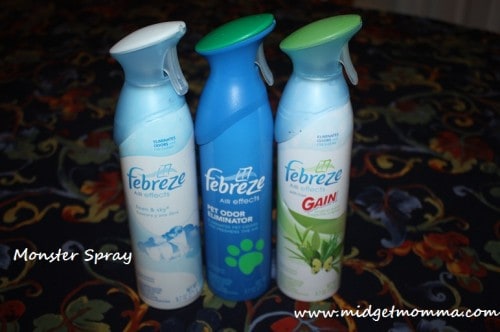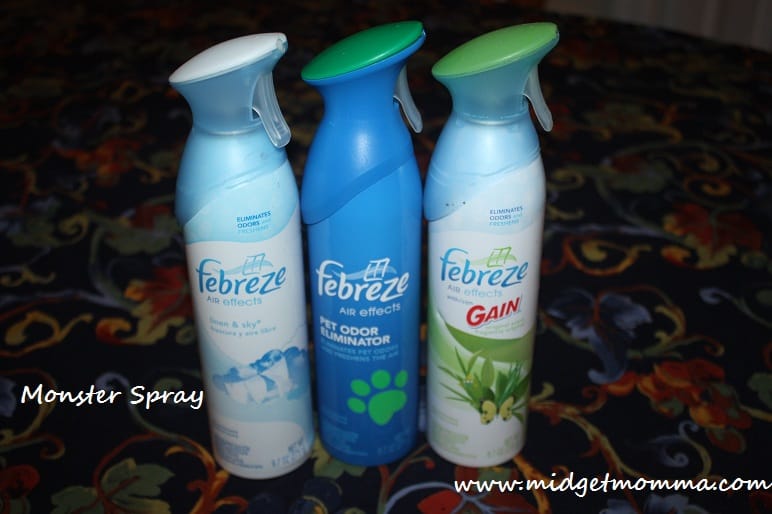 Monster spray works because it gets in the air and makes them all run (according to my daughter) and that is why you have to use Monster spray instead of a broom or a vacuum to suck them up (we tried that when she asked us to "clean them up" but as she said "they didn't leave").
We have an arsenal of Monster Spray that does just what it needs to and a few quick sprays and the monsters stay away!  Now they do come back every so often but since we are prepared we don't have to worry we will get them and at the same time the house smells nice and fresh 😀
Do you have monsters in your house that your kiddos tell you about? What do you use to get rid of the monsters?
This post may contain affiliate links. Please read my disclosure policy here