So we have had 2 ultrasounds where I was stuck being kept in the dark on what our little one is, and now that we have done the gender reveal at Disney World and I am finally home from the craziness of the last two weeks I had the chance to see them and see where it actually said the words "it's a girl" on the ultrasound photo!
I figured I could not leave you all out of the fun of seeing it too!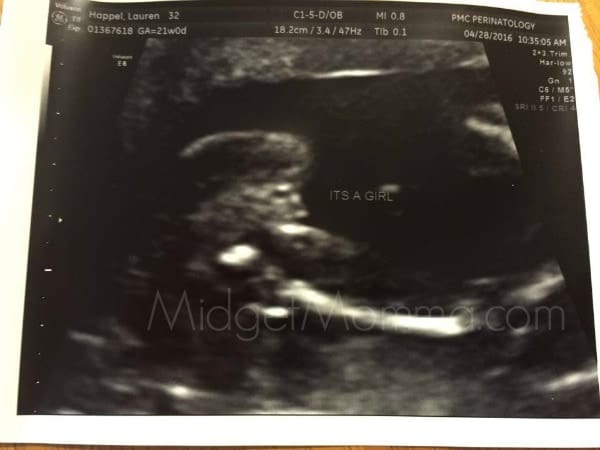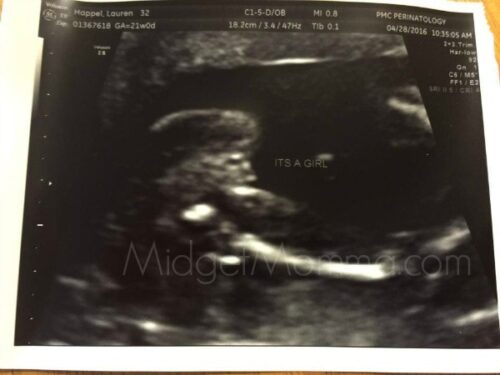 So far everything is going well, the doctors did schedule me for another ultrasound mid-june to do a growth check. Apparently baby is bigger then normal. For me I don't know if I believe in a "normal" though considering all the other 3 were tiny when they were born. My oldest was 5 pounds, my middle was 6 pounds 5 ounces and the youngest was 6 pounds 7 ounces. But  I will gladly have more ultrasounds to get an inside peek at the little one as she grows inside my "tummy".
I am thankfully not as tired as I was the past few months, but while in Disney my feet swelled daily and sadly that has not stopped since getting home. It may be from being on them so much so I am hoping that now that all the craziness is over with that a few days home will help with that.
I know some of you have noticed my oh so attractive hand brace in photos, I said hello to pregnancy induced carpel tunnel.Not something that is very exciting when my job involves typing on a daily basis. Thankfully the brace helps A LOT. So if you end up with it I say get the brace, as crazy as you feel wearing it as you won't regret it! It will make your hand feel soooooo much better!
We are still working on figuring out what theme to do the room in. Baby will be joining Alyssa and she wants to do a room design change but now we are just trying to figure out what theme to go with that we can all (me, tom and alyssa) can agree on that won't take forever to get finished.
On the name front…. well I am aiming for an "H" first name. The older 3's initials spell out my maiden name initials (LMA) and adding an H name will give each kid a name that is a letter of my initials. So if you know of any "H" names feel free to toss me some ideas because I have not found any that I TOTALLY LOVE yet! Names have ALWAYS been a struggle in our house with the exception of McKenzie. For her name I told Tom that was what her name was going to be and that was that HAHA, the other 2 we were at like 36 almost 37 weeks before we had finally picked and agreed on names! I am really hoping that is not the case this go around!
The older three are begging me to take them shopping, they want to pick out all of their siblings clothing. That is 100% ok with me! If they pick out outfits they will be easy for Tom to figure out what goes with what!
I am sure I am missing other things as well, but I wanted to give you all an update 🙂 I would love to hear about how things are going for all of you as well, pregnant or not pregnant!