Ohio Flame Fire Pit Review
***NOTE – Since since writing this post this company has sought to use my review as a reason to no longer work with bloggers for reviews. Whenever I write a review, my opinions and experiences are my own and I do not allow a company to dictate what I say in a review. The company in which I do a review for does not have to agree with my statements but they have no right to ask me to change my thoughts or withhold information from my readers. With that I have a right to say what I feel about a product and by sending me product to review that is what the company was asking me to do. Please note this is the original review I wrote for them when I posted, the only thing added to the review since then is the picture of after use, the statement about the color change and adding their warranty information.
Ohio Flam Fire Pit Review
Many times when you think of having fun outside around a fire you think a nice warm night hanging out with the family and roasting marshmallows but for us outside fun is not just in the summer time. A fun thing for us that has become a recent enjoyable activity is hanging out around the firepit bundled in our winter coats and roasting marshmallows and just spending time with one another.
The weight and stability of the 24″ Ohio Flame Patriot Fire Pit in Natural Steel Finish surprised me when the box arrived. Many times in the stores I see pretty little firepits and i pick them up and they are super light, which is something that I do not like. So when the box arrived with the Firepit and I went to lift it out and needed to get hubby to help me I was pleasantly surprised. There is no  set up required with them, all you do is open the box and you are ready to have some family fun with your firepit!
I really like the color, no matter what your backyard decor is this firepit will match and add a great look to it!
When starting the fire I had a bit of trouble, which is not the fault of the firepit but for whatever reason the wind and then it starting to sprinkle caused us not to get a huge flame but then my son got a nice idea of throwing paper in it on top of the dryer lint and tada we got fire!
When putting out the fire when you are done there are some firepits that you have to pour the water out but not with Ohio Flame, they have a small hole that is big enough for water to get out but not big enough for the fire to come out of the bottom! LOVE that! It makes the end of the use easy, just pour the bucket of water on it and next time you want to use it it will be drained:)
Ohio Flame is a great American company who also supports America by only using steel that is made in America. The packaging and other materials that they use for their firepits are also all made in the USA! Not only are they made in the USA but they are also handmade by local artisans!
And this is what your firepit will look like after you use it for a few months, which is great for those who didn't like the black, it will turn a beautiful orange for you!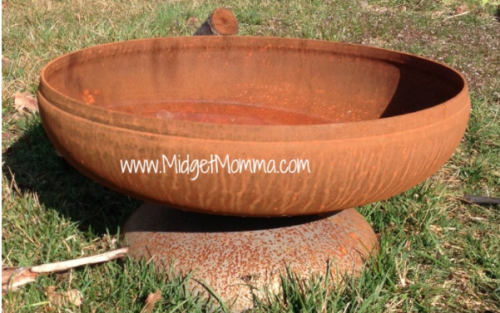 But don't worry guys, it won't rust THROUGH the steel according to the company representative I talked to and their warranty 😉
We offer a Lifetime Warranty on all of our steel fire bowls. Because we use heavy gauge American steel, we guarantee that the steel on your fire bowl will not rust through in your lifetime. Steel gauge thickness varies by size and model, but range from 3/16″ to 1/4″ thick. Natural steel finishes will develop a natural iron oxide patina over time. This patina will darken slightly over time. The patina process only occurs at the surface level, so your Ohio Flame fire bowl will not rust through, warp or rot out over time. (Lifetime Warranty applies to the structural integrity and durability of the steel bowl and welds. No warranty is offered on screens, grates, paint or finishes. Altering the product or using the fire bowl in any way other than intended will void the manufacturer's warranty.)
Disclaimer: I was provided a promotional item to facilitate my review. No compensation was received and all opinions are 100% my own.
Ohio Flame Fire Pit review