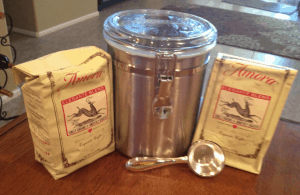 If you are looking for an AWESOME Coffee Deal, check this one out! It is completely FREE all you have to pay is shipping so you get $49 worth the Coffee goods for only $8.95 shipped!!!! If you are not a coffee drinker this would make a great gift for a coffee fan!
Here is what you will get:
2 8 ounce bags off coffee (there are 4 different flavors to pick from)
Silver plated coffee scoop
Stainless steel coffee canister
Orders yours here!
***You will be signed up for a subscription but to cancel all you have to do is call 1-855-MI-AMORA and cancel!
Thanks Cents Less Deals 
This post may contain affiliate links. Please read my disclosure policy here