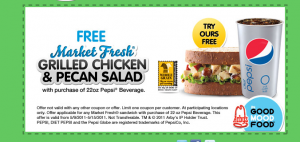 Head on over to the Arby's Facebook page and "like" them print your coupon for a FREE MarketFresh Grilled Chicken and Pecan Salad Sandwich when you buy a 22 ounce Pepsi Beverage! This will make for an AMAZINGLY Cheap lunch! A 22 ounce drink is about $2 and Markey Fresh sandwiches are about $5 buy themselves so this is a GREAT Cheap lunch!
Coupon is valid from 5/9-5/15
Join the newsletter
Subscribe to get our latest content by email.
This post may contain affiliate links. Please read my disclosure policy here