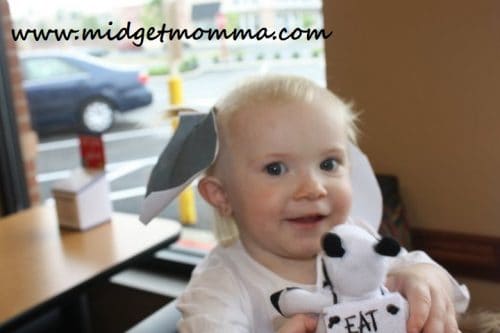 On July 10th head in to your local Chic-Fil-A and snag a FREE meal! This year they have made it so anyone wearing anything cowlike will receive a free entrée! Yum!
You can go in at anytime and get a FREE Meal!
Breakfast Meal includes breakfast Entrée (Chicken Biscuit; Chick-n-Minis™ (3-count); Chicken or Sausage Burrito; Chicken, Egg, and Cheese Bagel; or Bacon, Egg, and Cheese Biscuit), hash browns, and small beverage. Breakfast items may not be served at all locations and are served during breakfast hours only. Lunch or dinner Meal includes Entrée (Sandwich, Cool Wrap®, Nuggets, Chicken Salad Sandwich or Chick-n-Strips™), medium Waffle Potato Fries™, and medium beverage.
Find a store near you here 
Easy Cow Costume Idea for FREE Chic-Fil-A day
Get some white printer paper and draw "cow Prints" and color them in with a black marker or crayon
Cut the "Cow prints" out and tape them to your white shirt
Draw Ears on a piece of white paper and color them in and then attach them to your hair with bobbie pins.
Join the newsletter
Subscribe to get our latest content by email.
This post may contain affiliate links. Please read my disclosure policy here