WOW! This is a FUN Freebie, but you have to hurry to snag it because there are only 2 days left to get it!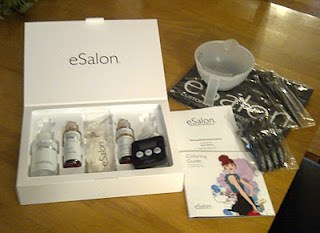 Right now you can get a FREE Custom Professional Hair Color from eSalon!! All you have to do is go through your profile and tell them about your natural hair color and what color you want to have your hair be. Then they send you your own personal color and the bottle will even have your name on it!
How to get your FREE Hair Color
Go through the detailed hair analysis
Order the color that you want and select how often you want to color your hair.
get it for FREE (you will pay $4.95 for shipping)
This is an AMAZING price for Salon quality hair color, I know when I used to go to the salon to get my hair colored it was $100 each time(which is why I stopped because it was to much money for me to keep putting out).
*You will be enrolled into their reccuring program but if you pick the 12 week option you will have plenty of time to cancel and you can cancel by logging into your account and clicking cancel or call 866-550-2424.
Thanks Moore Beauty for the image.
This post may contain affiliate links. Please read my disclosure policy here