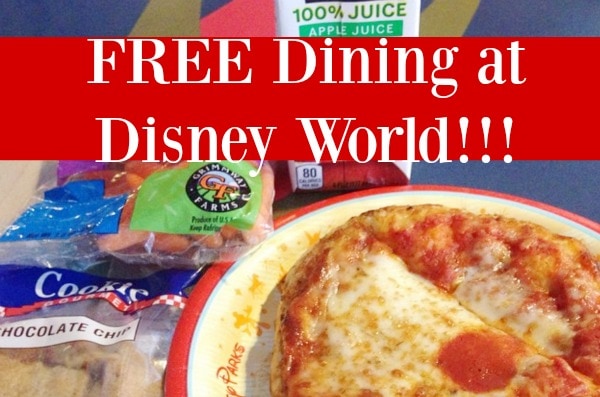 WahoooO!! I am soooo excited about this FREE Dining promotion that Disney World is doing! In order to take advantage of this promotion you need to book by July 8, 2016. However I say book the sooner the better so they do not sell out of rooms that come with the promo! The FREE Dining at Disney is Back!!! Plus before you go on your trip (or before you start planning your trip) you will want to make sure that you sign up for the FREE Disney pack here that will be filled with information, travel tips and a fun DVD! My kids love the DVD, they watch it more often then I would like to admit 😉
Offer valid at select Disney Resort hotels for arrivals most nights – ONE of your nights MUST fall on one of these dates to get the FREE Dining.
August 23 through October 1, 2016
November 15 through November 21, 2016
November 26 through November 28, 2016
December 10 through December 21, 2016
The Moderate and Deluxe resorts have a sit down meal, a snack and a counter service meal a day along with a refillable mug for each night you are there. Which a snack can easily count as breakfast
The Value resorts come with just counter service meals and snack along with a refillable mug for each night you are there.
I am going to suggest this- to get the BEST bang for your buck stay at a moderate resort and then use your sit down credit that you get each day for a Character dinner. These are costly dinners and while most of the time you want to be go go go at Disney I have found that the character dinners give kids one on one time with the Characters vs waiting in the lines to meet the characters. It costs a little bit more but we have found it is much more enjoyable for all to sit down, have a REALLY good big meal (as most character ones are buffets) and the kids get to have fun with the characters.
FREE Dining Promotion at Disney Package Includes
Room
Theme park ticket(s) with Park Hopper or Water Park Fun & More Option
Dining Plan (Disney Quick-Service Dining Plan with Value Resort hotel packages; Disney Dining Plan with Moderate, Deluxe and Deluxe Villa Resort hotel packages)
Get started on planning your trip here