Free Food With Your COVID Vaccine Card. The COVID-19 vaccine has more perks than just protecting yourself and others from the virus – you can also get free food with it!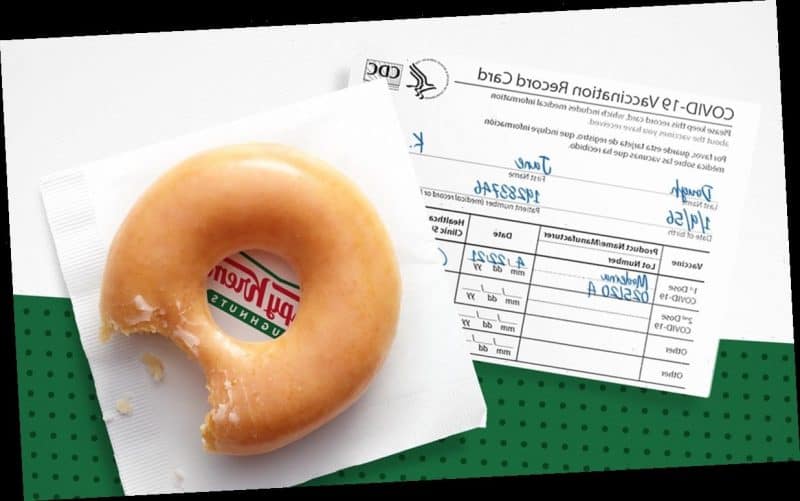 Photo Credit: Krispy Kreme
Free Food With Your COVID Vaccine Card
While these deals can vary from city to city, it's worth checking out which ones are free in your area.
Krispy Kreme Doughnuts: Free glazed doughnuts to customers who show their COVID-19 vaccination cards at checkout. This deal lasts until the end of 2021 and requires no additional purchases.
Nathan's Famous: Free hot dogs at its Coney Island location to people on the same day as their vaccine appointment. Just bring your vaccination card to the flagship restaurant and snag a free dog! Right now this offer is only available at the Coney Island location.
Village Tap:(Chicago) Free $10 gift cards to each person who shows their vaccine card, meaning you can get beer, pretzels, corn dogs, and more covered. This offer lasts until they give out $10,000, so be sure to head there sooner rather than later.
Super Duper Burgers:Located in the Bay Area, this burger joint is offering free french fries to customers who show up with their vaccination cards.
Budweiser: Head to abeeronbud.com to get $5 in beer money after you show proof of vaccination. You can do this by taking a selfie with you vaccination sticker and Band-Aid or you can upload a picture of yourself at a vaccination site.
So Good So You: Go to freejuiceshot.com, you can receive a voucher for a free juice shot after you show proof of vaccination. Made with elderberry, turmeric, and more, these good-for-you shots are worth getting a real shot.
Samuel Adams:#ShotForSam campaign. If you post your vaccination sticker or bandage with the hashtag #ShotForSam and tag @samueladamsbeer on Instagram or Twitter, the company will send over $7 through the Cash App so you can enjoy a beer at your favorite bar.
Limited Time Offer ~ Prices are subject to change without notice.
More FREEBIES for you to enjoy!