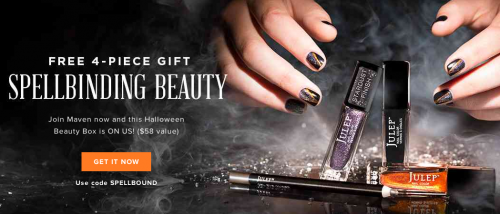 WOW! Here is an AWESOME deal! If you are not yet a member of Julep right now you can score their limited Edition Halloween Nail Polish Beauty Box for FREE! You will pay $2.99 shipping but this box is normally $58!!
Just head on over here use the code SPELLBOUND to get your own Free 4 Piece Halloween Welcome Box for New Mavens ($58 Value)
I have been getting the Julep Maven boxes for about 3 years now, I love them!! They are a great treat for myself each month in the mailbox

Note: you are signing up to receive boxes on a monthly basis from Julep Maven (after this first month's box is sent for just $2.99 shipping, your monthly cost will be $24.99 for up over $40 worth of products). You will be notified by email on the 20th of the month with a preview of the products they've customized for your next month's beauty editor Box. If you do not want to continue your subscription, call the Julep Beauty Advisors at 877-651-3292; you must cancel by the 24th at 11:59pm (PST) to avoid being charged on the 27th.
This post may contain affiliate links. Please read my disclosure policy here