You do not want to miss this deal where you will be able to grab a TON of of great Mrs. Meyers products for a steal of a price! Right now you will get a FREE Mrs. Meyers Gift set (Valued at over $25) at Grove.com.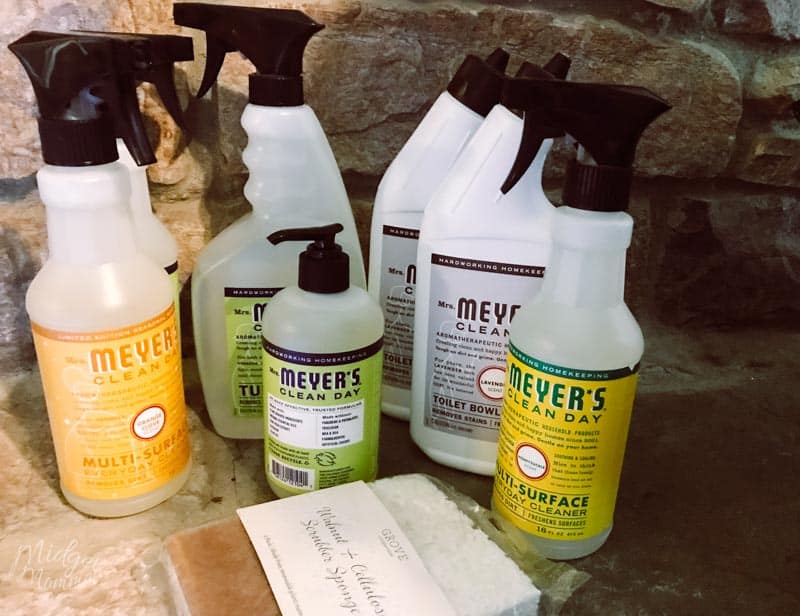 To get the FREE Gift set from Grove.com you will have to spend $20 or more, but they have great prices on cleaning supplies that you will pay just $20.99 for 6 Mrs. Meyers cleaning products, 1 6 pack of paper towels, 1 2 pack of sponges, hand towel and Method hand soap! Yes ALL of that for just $20.99 SHIPPED!
How to get the Deal:
Buy 1 Mrs. Meyers Fall Trio & Seedling by Grove Tree-Free Paper Towel 6-pack  @ $20.99
– Includes 1 Mrs. Meyers Seasonal Hand Soap, 1 Mrs. Meyers Seasonal Dish Soap, 1 Mrs. Meyers Seasonal Multi-Surface Cleaner, and 1 Seedling by Grove Paper Towel 6pk
Automatically added to your cart (Use the drop down menu to pick the scents you want!)
Get 1 FREE Mrs. Meyer's Hand Soap 12.5oz ($5.30 value) – available in seasonal scents! 
Get 1 FREE Mrs. Meyer's Dish Soap 16oz ($5.30 value) – available in seasonal scents! 
Get 1 FREE Mrs. Meyer's Multi-Surface Spray ($5.30 value) – available in seasonal scents! 
Get 1 FREE Grove Walnut Scrubber Sponges 2pk ($3.95 value)
FREE Shipping and FREE VIP!
BONUS: Get 1 FREE Kitchen Towel AND Method Hand Soap ($9.84 value) – offer may vary
Total: $20.99 SHIPPED! = Just $2.33 each shipped!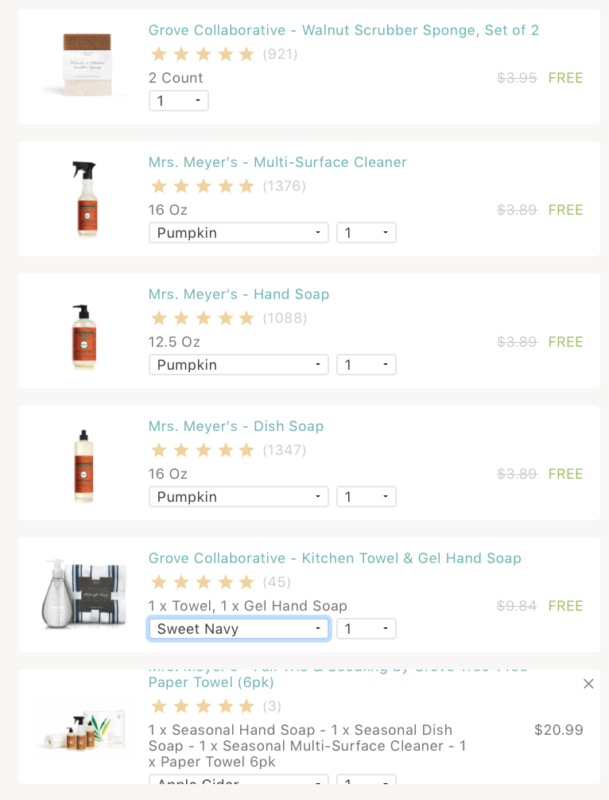 What is Grove?
Grove is a monthly subscription for household cleaning supplies and more. The cost of the Grove's VIP membership is $19.99 per year. After your FREE 60-day trial of the VIP membership, it automatically renews for the $19.99/year rate. Once you are enrolled, the price remains the same from year to year. But you can cancel your VIP membership at ANY time!
Every month (or whatever schedule you set for items to be ordered) you will receive an email seven days before your next box ships as a reminder and to ask if you're still happy about what's coming your way. Your shipments are 100% customizable, and you have complete control over which products you get and when you'd like to receive them. You can also skip any month that you do not want to place an order.