Freeform's 31 Nights of Halloween. October has arrived and so has the spooky fun of Halloween movies featuring a different fan-favorite each night of the month. Pop the popcorn, bake some cookies and cozy up in the living room with the kids and enjoy the movies we all love.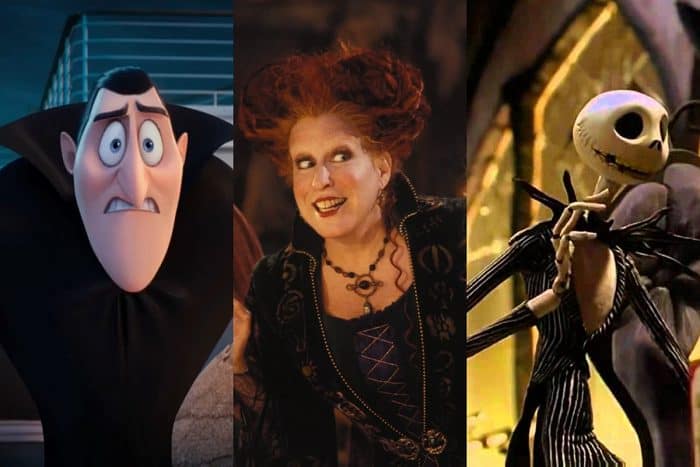 Photo Credit: Freeform
Freeform's 31 Nights of Halloween Movies Starts October 1st
Starting October 1st, 2020, Enjoy Freeform's  "31 Nights of Halloween" with spooktacular movies each day!
Set your streaming devices to Freeform for the ENTIRE MONTH and gather the family. You can enjoy movies each day including Hocus Pocus, Ghostbusters, The Nightmare Before Christmas, The Goonies, Hotel Transylvania, and so many more.
Be sure to bookmark this page and come back so you can easily keep track of when your favorite movies will air!
Here is the FULL "31 Nights of Halloween" schedule:
Thursday, October 1st
12:30p/11:30  Willy Wonka & the Chocolate Factory
3p/2c  Tim Burton's Corpse Bride
5p/4c  Casper (1995)
7p/6c  Hotel Transylvania
9p/8c  Hocus Pocus
12a/11c  Willy Wonka & the Chocolate Factory
---
Friday, October 2nd
11a/10c The Goonies
1:30p/12:30c Tim Burton's Corpse Bride
3:05p/2:05c Casper (1995)
5:10p/4:10c Hotel Transylvania
7:15p/6:15c Tim Burton's The Nightmare Before Christmas
8:55p/7:55c Beetlejuice
12-2a / 11-1c The Simpsons: Treehouse of Horror-thon
---
Saturday, October 3rd
7a/6c Monsters vs Aliens: Mutant Pumpkins
7:30a/6:30c The Goonies
10a/9c Ghostbusters (1984)
12:30p/11:30c  Ghostbusters II
3:05p/2:05c  Beetlejuice
5:10p/4:10c  Hocus Pocus
7:20p/6:20c  The Addams Family (1991)
9:25p/8:25c Addams Family Values
11:30p/10:30c The Craft
---
Sunday, October 4th
7a/6c    Ghostbusters (1984)
9:30a/8:30c  Ghostbusters II
12p/11c Willy Wonka & the Chocolate Factory
2:05p/1:05c Decorating Disney: Halloween Magic
3:05p/2:05c Casper (1995)
5:10p/4:10c The Addams Family (1991)
7:15p/6:15c Addams Family Values
9:20p/8:20c Hocus Pocus
11:30p/10:30c Sleepy Hollow (1999)
---
Monday, October 5th
11:30a/10:30c Casper (1995)
1:30p/12:30c Sleepy Hollow (1999)
4p/3c Ghostbusters (1984)
6:30p/5:30c Ghostbusters II
9p/8c Beetlejuice
12a/11c Boxtrolls
---
Tuesday, October 6th
11a/10c Charlie and the Chocolate Factory
1:30p/12:30c Ghostbusters (1984)
4p/3c Ghostbusters II
6:30p/5:30c Beetlejuice
8:30p/7:30c Hotel Transylvania
12a/11c Tim Burton's Corpse Bride
---
Wednesday, October 7th
11a/10c Decorating Disney: Halloween Magic
12p/11c Tim Burton's Corpse Bride
2p/1c Matilda
4p/3c Hotel Transylvania
6p-11p / 5-10c The Simpsons: Treehouse of Horror-thon
12a/11c Jumanji (1995)
---
Thursday, October 8th
12p/11c Matilda
2p/1c Jumanji (1995)
4:30p/3:30c Goosebumps (2015)
7p/6c The Addams Family (1991)
9p/8c Addams Family Values
12a/11c Warm Bodies
---
Friday, October 9th
11:30a/10:30c The Mummy (1999)
2:20p/1:20c Goosebumps (2015)
4:45p/3:45c The Addams Family (1991)
6:50p/5:50c Addams Family Values
8:55p/7:55c Hocus Pocus
12-2a / 11-1c The Simpsons: Treehouse of Horror-thon
---
Saturday, October 10th
7a/6c The Mummy (1999)
10a/9c The Mummy Returns
1:05-3:35p / 12:05-2:35c The Simpsons: Treehouse of Horror-thon
3:35p/2:35c Casper (1995)
5:40p/4:40c Hotel Transylvania
7:45p/6:45c Freeform Premiere Hotel Transylvania 2
9:50p/8:50c Freeform Premiere Hotel Transylvania 3: Summer Vacation
12a/11c Tim Burton's Corpse Bride
---
Sunday, October 11th
7a/6c The Mummy Returns
10:05a/9:05c Casper (1995)
12:10p/11:10c Tim Burton's Corpse Bride
1:50p/12:50c Tim Burton's The Nightmare Before Christmas
3:30p/2:30c Hotel Transylvania
5:35p/4:35c Hotel Transylvania 2
7:40p/6:40c Hotel Transylvania 3: Summer Vacation
9:50p/8:50c Twitches
11:55p/10:55c Twitches Too
---
Monday, October 12th
7a/6c Freeform Premiere The Mummy: Tomb of the Dragon Emperor
12:30p/11:30c Halloweentown
2:30p/1:30c Halloweentown II: Kalabar's Revenge
4:30p/3:30c Scared Shrekless
5p/4c Shrek
7p/6c The Addams Family (1991)
9p/8c Addams Family Values
12a/11c Freeform Premiere The Scorpion King
---
Tuesday, October 13th
11a/10c The Goonies
1:35p/12:35c Scared Shrekless
2:05p/1:05c Shrek
4:10p/3:10c The Addams Family (1991)
6:15p/5:15c Addams Family Values
8:20p/7:20c Hocus Pocus
12a/11c Casper (1995)
---
Wednesday, October 14th
1p/12c Casper (1995)
3-9p / 2-8c The Simpsons: Treehouse of Horror-thon
9p/8c Beetlejuice
12a/11c Boxtrolls
7a/6c Scream 3
---
Thursday, October 15th
7a/6c Scream 3
11a/10c Jumanji (1995)
1:30p/12:30c Beetlejuice
3:30p/2:30c Scream
6p/5c Scream 2
8:30p/7:30c The Craft
12a/11c Jumanji (1995)
---
Friday, October 16th
11:30a/10:30c The Craft
2p/1c Matilda
4p/3c Tim Burton's Corpse Bride
6p/5c Disney and Pixar's Toy Story of TERROR!
6:30p/5:30c Disney and Pixar's Monsters, Inc.
8:30p/7:30c Disney and Pixar's Monsters University
12a/11c Disney and Pixar's Toy Story of TERROR!
12:30-2a / 11:30-1c The Simpsons: Treehouse of Horror-thon
---
Saturday, October 17th
7a/6c Tim Burton's Corpse Bride
8:55a/7:55c Matilda
10:55a/9:55c Tim Burton's The Nightmare Before Christmas
12:35p/11:35c Ghostbusters (1984)
3:05p/2:05c Ghostbusters II
5:40p/4:40c Beetlejuice
7:45p/6:45c Hocus Pocus
9:55p/8:55c Halloweentown
12a/11c Halloweentown II: Kalabar's Revenge
---
Sunday, October 18th
7a/6c Willy Wonka & the Chocolate Factory
9:30-11a / 8:30-10c The Simpsons: Treehouse of Horror-thon
11a/10c Twitches
1:05p/12:05c Twitches Too
3:05p/2:05c Beetlejuice
5:10p/4:10c Hocus Pocus
7:20p/6:20c The Addams Family (1991)
9:25p/8:25c Addams Family Values
11:30p/10:30c Gremlins
---
Monday, October 19th
11a/10c Matilda
1p/12c Gremlins
3:30p/2:30c Casper (1995)
5:30p/4:30c The Addams Family (1991)
7:30p/6:30c Addams Family Values
9:30p/8:30c Tim Burton's The Nightmare Before Christmas
12a/11c Matilda
---
Tuesday, October 20th
11a/10c Willy Wonka & the Chocolate Factory
1p/12c Casper (1995)
3p/2c Sleepy Hollow (1999)5:30p/4:30c Ghostbusters (1984)
8p/7c Ghostbusters II
12a/11c Willy Wonka & the Chocolate Factory
---
Wednesday, October 21st
11a/10c Sleepy Hollow (1999)
1:30p/12:30c Ghostbusters (1984)
4p/3c Ghostbusters II
6:30-11p / 5:30-10c The Simpsons: Treehouse of Horror-thon
12-2a / 11-1c The Simpsons: Treehouse of Horror-thon
---
Thursday, October 22nd
11a/10c Tim Burton's Corpse Bride
12:35p/11:35c Jumanji (1995)
2:35p/1:35c The Mummy (1999)
5:45p/4:45c The Mummy Returns
8:55p/7:55c Hocus Pocus
12a/11c Tim Burton's Corpse Bride
---
Friday, October 23rd
11a/10c Jumanji (1995)
1:30p/12:30c Scream
4p/3c Scream 2
6:30p/5:30c Beetlejuice
8:30p/7:30c Sleepy Hollow (1999)
12-2a / 11-1c The Simpsons: Treehouse of Horror-thon
---
Saturday, October 24th
7a/6c Decorating Disney: Halloween Magic
8a/7c Halloweentown
10:05a/9:05c Halloweentown II: Kalabar's Revenge
12:05p/11:05c Beetlejuice
2:10p/1:10c Sleepy Hollow (1999)
4:40p/3:40c Hocus Pocus
6:50p/5:50c The Addams Family (1991)
8:55p/7:55c Addams Family Values
11p/10c Freeform Premiere Ghostbusters (2016)
---
Sunday, October 25th
7a/6c Tim Burton's Corpse Bride
9a/8c Ghostbusters (1984)
11:30a/10:30c The Craft
2p/1c The Addams Family (1991)
4:05p/3:05c Addams Family Values
6:10p/5:10c Ghostbusters (2016)
9:20p/8:20c Hocus Pocus
11:30p/10:30c The Craft
---
Monday, October 26th
11a/10c Tim Burton's Corpse Bride
1p/12c Casper (1995)
3p/2c Twitches
5p/4c Twitches Too
7p/6c Hotel Transylvania 2
9p/8c Hotel Transylvania 3: Summer Vacation
12-2a / 11-1c The Simpsons: Treehouse of Horror-thon
---
Tuesday, October 27th
11a/10c Casper (1995)
1p/12c Scared Shrekless
1:30p/12:30c Jumanji (1995)
4p/3c Hotel Transylvania 2
6p/5c Hotel Transylvania 3: Summer Vacation
8p/7c Hocus Pocus
12-2a / 11-1c The Simpsons: Treehouse of Horror-thon
---
Wednesday, October 28th
12p/11c Jumanji (1995)
2:30p/1:30c Tim Burton's Corpse Bride
4:30p/3:30c Matilda
6:30p/5:30c Disney and Pixar's Monsters, Inc.
8:30p/7:30c Disney and Pixar's Monsters University
12-2a / 11-1c The Simpsons: Treehouse of Horror-thon
---
Thursday, October 29th
12p/11c Ghostbusters (1984)
2:30p/1:30c Ghostbusters II
5p/4c Tim Burton's The Nightmare Before Christmas
6:30p/5:30c Sleepy Hollow (1999)
9p/8c Beetlejuice
12-2a / 11-1c The Simpsons: Treehouse of Horror-thon
---
Friday, October 30th
11a/10c Decorating Disney: Halloween Magic
12:05p/11:05c Sleepy Hollow (1999)
2:35p/1:35c Beetlejuice
4:40p/3:40c Hocus Pocus
6:50p/5:50c The Addams Family (1991)
8:55p/7:55c Addams Family Values
12-2a / 11-1c The Simpsons: Treehouse of Horror-thon
---
Saturday, October 31st
7a/6c Twitches
9a/8c Twitches Too
11a/10c Halloweentown
1p/12c Halloweentown II: Kalabar's Revenge
3p/2c Hocus Pocus
5:10p/4:10c The Addams Family (1991)
7:15p/6:15c Addams Family Values
9:20p/8:20c Hocus Pocus
11:30p/10:30c Ghostbusters (1984)
You may also enjoy: