We all love good food, and good food at a frugal price makes it even better! Thanks to the Coupon Challenge for this Frugal Recipe!
This ended up more expensive than I had planned by purchasing all these ingredients in 1 week, so I added my stockpile cost which was much more reasonable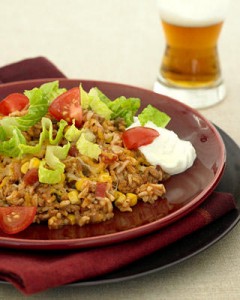 Prices are based on the 03/23 Farm Fresh weekly ad.
Turkey Taco Skillet
Ingredients
1 lb ground turkey
1 pkg taco seasoning mix
2 cups water
1 jar (16 oz) thick & chunky salsa
1 can (11 oz) Mexican-style corn
2 cups instant brown rice
1 cup shredded Mexican or taco cheese blend
2 cups shredded lettuce
1 large tomato, chopped
1/2 cup reduced-fat sour cream
Baked tortilla chips


Directions
1. Cook turkey in a large skillet over high heat, breaking up meat, 5 minutes or until browned. Stir in seasoning mix, water, salsa and corn; bring to a boil. Stir in rice. Cover and remove from heat; let stand 12 to 15 minutes, until liquid is absorbed. Sprinkle with cheese; cover and let stand 1 to 2 minutes to melt cheese.
2. Top rice mixture with lettuce, tomato and sour cream.
3. Serve with tortilla chips.
Price Breakdown

Perdue Ground turkey $2.50
Kraft Cheese $1.99
Chi-Chi's salsa $2.79
Taco Bell seasoning mix $0.85
Libby's Corn $0.79
Rice $2.39 ($1.20)
Lettuce $1.69 ($0.75)
Tomatoes $1.99lb ($1)
Total: $11.87 – from my stockpile, I would pay about $3
Thanks to Women's Day for the recipe & photo!
Join the newsletter
Subscribe to get our latest content by email.
This post may contain affiliate links. Please read my disclosure policy here