With all the free and cheap deals for Philly Cooking creams we have ended up with quite a collection in the fridge so I am trying them out to come up with some easy, cheap recipes that taste great! (Using my family as my test subjects of course lol). I am listing the cost that I paid for each item for this recipe. Your cost maybe a little lower or higher depending on your purchase price for the items.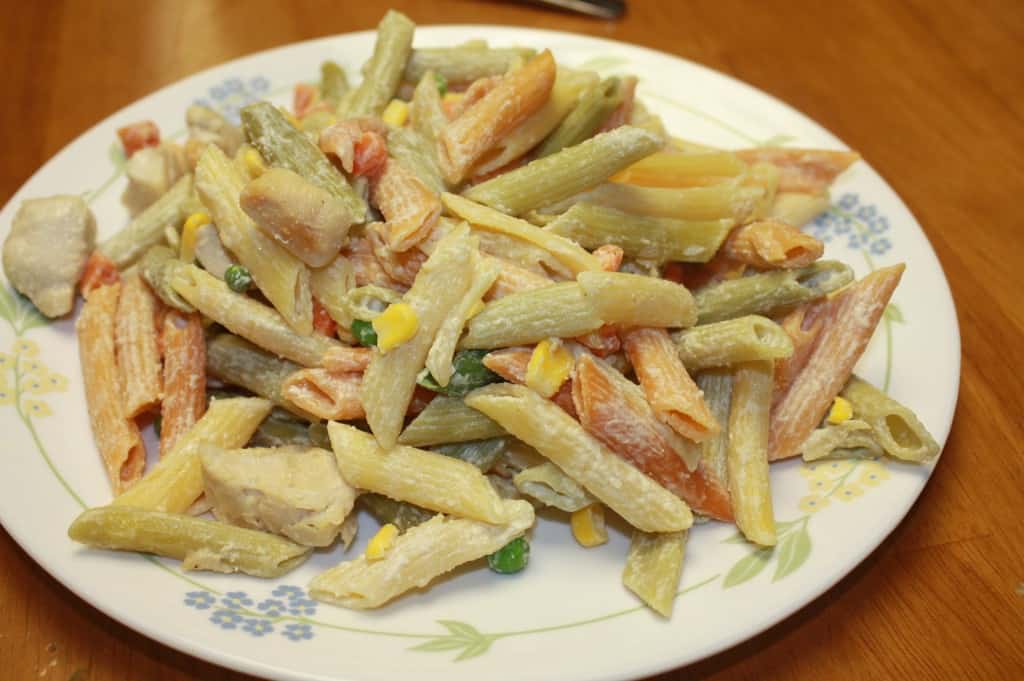 Ingredients:
1 Philly cooking creme Garlic and Herb (on sale for 1.49 I used a 1.50/1 coupon-=Free)
1 lb Chicken (I used chicken tenderloins that I got on sale for 2.73 used a 1.50/1 coupon =paid 1.23)
1 box Ronzoni Garden Delights (on sale for $1 and used a $1/1 coupon= Free)
1/2 bag frozen mixed Veggies (on sale for $1 used a coupon and paid .66/bag on sale=paid .33)
Total cost for meal without coupons-5.72
Total cost for meal with using coupons- 1.56
Directions:
Cook pasta(use whatever you have on hand in your stockpile) according to box and drain
Cook chicken
Cook veggies
Add Pasta, veggies and chicken to a bowl, add in Philly Mixing creme
And thats it! Quick, simple, cheap and tastes great!

Frugal Recipe:Chicken & Veggie Pasta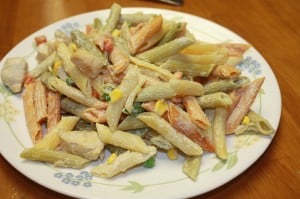 Prep time:
Cook time:
Total time:
Ingredients
1 Philly cooking creme Garlic and Herb (on sale for 1.49 I used a 1.50/1 coupon-=Free)
1 lb Chicken (I used chicken tenderloins that I got on sale for 2.73 used a 1.50/1 coupon =paid 1.23)
1 box Ronzoni Garden Delights (on sale for $1 and used a $1/1 coupon= Free)
½ bag frozen mixed Veggies (on sale for $1 used a coupon and paid .66/bag on sale=paid .33)
Instructions
Cook pasta (use whatever you have on hand in your stockpile) according to box and drain
Cook chicken
Cook veggies
Add Pasta, veggies and chicken to a bowl, add in Philly Mixing creme
This post may contain affiliate links. Please read my disclosure policy here