My kids love being able to help me cook, and they have a ton of fun doing so. Today for lunch the kids wanted pancakes, chocolate chip pancakes to be exact.
Pancakes:
2 Cups Bisquick
1 1/3 cup milk
2 eggs
1/2 cup chocolate chips
1 banana Pureed in food processor
Mix it all together in a bowl. Cook your pancakes on medium heat. Once cooked the fun begins!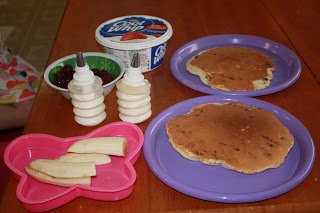 To decorate our pancakes today we used grapes, bananas and cool whip(which i put into Icing decorators so the kids could have designs) Most of the fruit they ate before it even ended up on the pancake while decorating them:)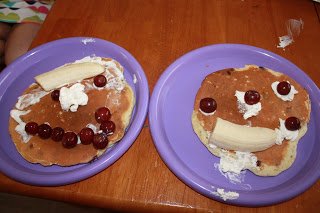 Princess Pretty Pants is on the left and Little Man's is on the right. I think they did an awesome job!
Join the newsletter
Subscribe to get our latest content by email.
This post may contain affiliate links. Please read my disclosure policy here