When I was growing up I had theGame Boy
, I loved my Game Boy! Tetris
and Zelda
were two of my favorite games. I remember sitting with my cousin with our wire attaching our Game Boys together so we could play games with each other. I remember putting Game Boy games on my Christmas and Birthday lists, and when the present looked like it could be a game I would guess what game it was that was on my list. Of course then when I would see my cousins we would compare what games each of us had, since we had those really cool Game Boy game cases that were in the shape of a game boy to store the games and the Game Boy and I had a soft case for them but I loved the Game Boy Shaped one. My love for my Game Boy may have gone a little extreme when for Halloween one year I was a Game Boy(I still think it was the coolest costume ever that my mom made for me to bad I could not find a picture to show you all).
Thinking about my Game Boy brings back great memories of fun times riding in the car, passing the different games back and forth with my sisters, sharing games with my cousins and playing with my cousin as we linked up. This is what I want for my children, I want them to have the fond memories of spending time with people and enjoying people while playing a video game. I want them to think of a drive we took to a vacation spot that they played their game system.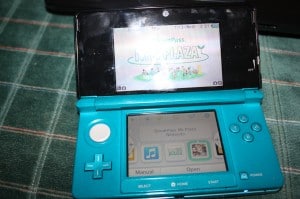 We received the Nintendo 3DS (in Blue )
to review, and I was excited, not just because it was a 3DS but because the memories and enjoyment that I had ith my Game Boy my kids could have with their 3DS. Now I have mentioned that my kids are not video gamecrazy, but they are slowly getting more into them and the 3DS seems to really fit them. The controls are easy for them to use, and it is great having the touch screen that they can physically interact with the game.
My kids are younger then the recommended age for using the 3D part of the 3DS, but it is easy to turn off the 3D so they can use it. I personally use the 3D view when I am playing it and I love it. I am not a very technical person (nor am I one to read a manual from front to back if I don't absolutely have to) and the settings and controls were easy for me to figure out. It was easy to set the settings when I first turned it on and had to set the time and date and my name ect. I really like the easy of setting it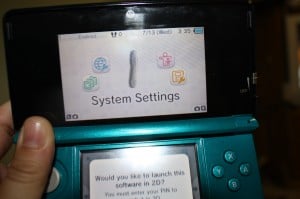 up. It is also easy to change it to the 3D view when I am playing it after the kids are done playing it. Even getting to the camera and taking 3D pictures was easy! I am loving the 3D pictures, although I am sure I drove the kids and Tom a bit crazy taking pictures of them with it:)
Of course once we got it I had to check out what games they have for the Nintendo 3DS and wow they have a lot! I was excited to see games for the 3DS that I played on my Gameboy like The Legend of Zelda
and Kirby
(even though Kirby is not in 3D I can play the regular DS games on the 3DS too!)! They have so many games that my kids would love to play like Animal Crossing
, Petz Fantasy 3D
, Crayola Treasure Adventures
, Battle of Giants: Dinosaurs
, and  Disney Princess: Magical Jewels
to name a few. There were also games that Tom would enjoy like Madden NFL Football! I was excited to also see games like The Sims 3
, I had the first 2 for the computer but I think it would be cool to play them on the 3DS.
Making sure that the 3DS is protected when it is not in use is important, and I love that they sell matching 3DS Starter Kits , so everything matches from the case to the cords you are plugging in to the lighter to charge your 3DS in the car!
The 3DS would be perfect for long car rides, (or even short ones which my kids like to do). I found a great sale right now they are on sale Buy 1 get 1 free on Amazon and I found ones that my family would enjoy for $19.99! That would make it $40 for 3 games, that is an AWESOME price!
The 3DS is great for the whole family, my kids and I love it and I am sure having a game that Tom would want to play would get him interested in playing it as well, he has talked about getting himself a handheld game system and I am sure the kids won't want to share this with him too, they already do not really want to share it with each other or myself:) We will be needing to get a second one so that the kiddos don't fight, and with the DS Lite now $99 we can with out breaking our budget, although we might make them wait until Christmas Time to actually get it 🙂
Disclaimer: I was not compensated for this review, I was provided product free of charge to facilitate my review. All opinions are my own.
Join the newsletter
Subscribe to get our latest content by email.
This post may contain affiliate links. Please read my disclosure policy here