Geoge Twinkle, our Elf on the Shelf, is up to crazy shenanigans again! This year he hopped on board with this Elf on the Shelf House or Castle Take Over Idea! This is tons of fun for the younger kids who play with Little People toys or other dolls with homes. A great change from your normal hijinks!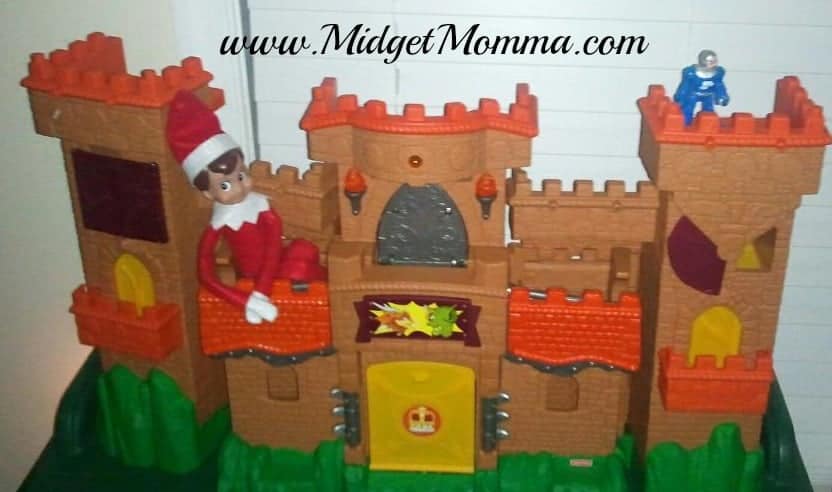 Elf on the Shelf House or Castle Take Over Idea
This morning we woke up to find George Twinkle hanging out in the Castle in my son's room. We are unsure what happened to all the people that were in the castle because he left one but the others that my son had in there seemed to have disappeared! I wonder where we will find them!
This idea is easy to recreate with any dollhouse, Little People home, or castle you have in your children's toy box! Just add your Elf on the Shelf to the top and move the other people or action figures out and hide in the toy box or another unique place kids will find them.
What is the Elf on the Shelf Tradition?
Year after year, children and adults alike are baffled by the mystery of how Santa really knows who's been naughty or nice. After much urging by the elves and Mrs. Claus, Santa has allowed his biggest secret to be revealed in The Elf on the Shelf: A Christmas Tradition. At the start of each Christmas season, the elf appears to serve as Santa's eyes and ears, traveling back to the North Pole each and every night to make a detailed report of the day's activities. This keepsake gift set includes a light skin, blue eyed boy North Pole pixie scout elf and a hardbound watercolor picture book. Children can register their elf online to receive an official adoption certificate and a special letter from Santa.
How to Start the Elf on the Shelf Tradition
Want your own Elf on the Shelf? You can get one on Amazon here.  Pick the one that fits your family best, and then start thinking about names for your Elf. We have a list of 110 Elf on the Shelf Names that work for a boy or girl. That is a perfect place to begin. You will also want to check out our post about How to Introduce Your Elf on the Shelf.  Next, you'll want to print out our Elf on the Shelf Rules Letter and make sure you set it up for your kids to read on the first day.
More Elf on the Shelf Ideas
There are so many great ideas out there for how to pose your Elf on the Shelf each year. Whether your family does goofy and fun or you are doing this for friends and adults so want more naughty ideas won't matter. It's a great tradition everyone loves! Below are some of our favorites to include this year!
More Family Christmas Tradition Ideas
Our Elf on the Shelf House takeover is one of our favorite ideas, but there tons of more traditions for the holiday season. You'll want to grab Santa's Phone Number this year to make sure you set up that phone call with him for your kids. They will love hearing from Santa Clause, and you'll love giving them another cherished memory!
Elf on the Shelf Rules Printable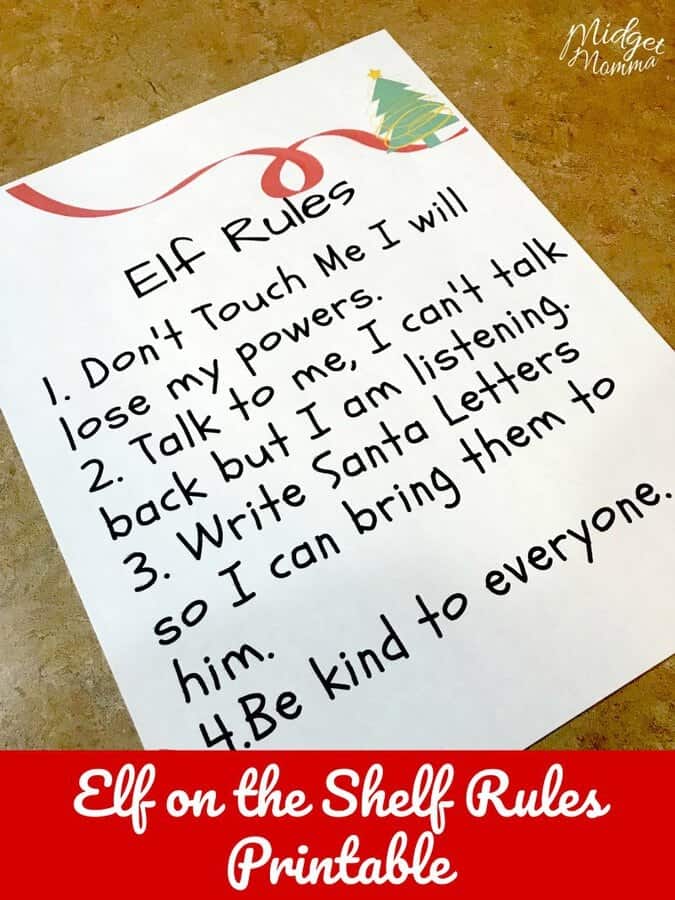 Elf on the Shelf Welcome Letter