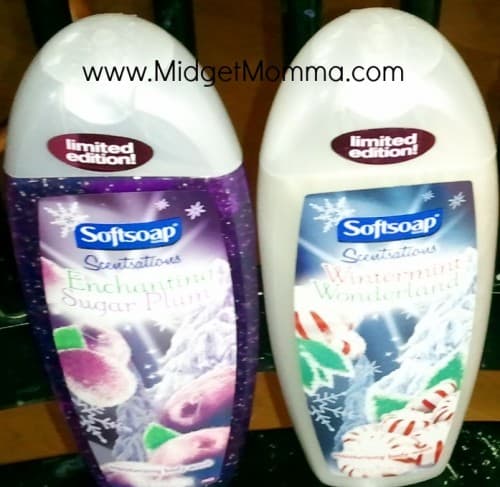 Who doesn't love a super hot shower with great smelling bodywash??? I know I do! One of my favorite ways to relax is to take a shower and hide. I wait for the kids to be in bed and I take a super long shower and enjoy the peace and quiet. Of course to add to my shower I like to have a great smelling bodywash!
With the holiday season sneaking up on us quickly I am loving all the wintery holiday scents that are out there including the new Holiday Softsoap Scentsations bodywash collection. There are 2 great scents, Wintermint Wonderland and Enchanting Sugar Plum. Please do not ask me to pick which one is my favorite because I can't, both of them put me in a relaxing mood and the great smells had me wanting to get a nice warm cup of hot chocolate upon getting out of the shower.
Around the holidays I like to get in to the Christmas sprit as much as I can, and since we are in the process of moving and I have not been able to decorate our house for Christmas these 2 scents have helped us get a bit more festive! My kids are loving them too, my son says his favorite is Wintermint Wonderland and the girls are loving the Enchanting Sugar Plum.
You can purchase these scents of bodywash from Softsoap in retail stores!
Disclaimer: I was provided promotional items to facilitate my review. No compensation was received and as always all opinions are 100% my own.
Join the newsletter
Subscribe to get our latest content by email.