Little Tikes Easy Store™ Picnic Table with Umbrella
Summer is in full swing and one of my favorite things to do is kick the kids outside, ok so I don't fully kick them out of the house but place an electronics ban on in the house and then push them out the door to enjoy the sunshine and fresh air. Another plus is it totally wears them out! The next best thing to hanging out outside and playing is enjoying lunch out doors too! When Little Tikes contacted us about reviewing some of the new summer products with 3 kids in the house the obvious answer was yes 🙂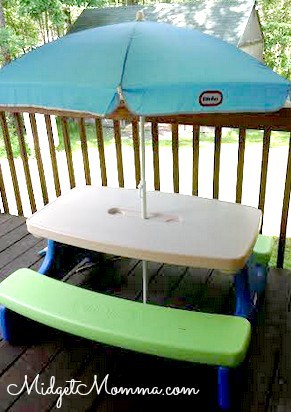 The Little Tikes Easy Store™ Picnic Table with Umbrella is not just a great place for them to sit and enjoy their lunch, but it is also a great place for them to color and draw outside too! If you look real close you can already see the paint marks from their artsy fun that they have been having!
The table fits perfectly on the deck and if I want to move it to the yard I can and they can enjoy the sun while under the shade of the umbrella. The bright colors are perfect for the summer. The bright colors are also perfect for the summer time. You can use this picnic table inside too, so during the colder months it makes a great table to have in the kids play room or use as a craft table!
Set up and put away (which I leave my out all the time but did take it down to test if out) is easy. And it fold flat so it doesn't take up a ton of space if you need to store it.
The kids have been loving spending time outside and being able to color, paint, build Legos, and enjoy their lunch out side with this fun Picnic table! If you have kiddos who love being outside then this a go to table. It is big enough for even the older kids like my 7 and 9 year old to sit at! You can purchase it with out the umbrella but I love the umbrella for the sunny days, they are able to stay under the shade while having fun!
Little Tikes Easy Store™ Picnic Table with Umbrella  Features:  
 • Seats up to six kids
    • Two cup holders in center of the table
    • Multi-purpose condiment/crayon tray
    • Center hole holds a Little Tikes Umbrella (included)
    • No tools required to set up or take down
    • Maximum weight limit 200lbs. per bench
    • Accessories not included 
    • Assembly Required 
Disclaimer: We were provided this product free of charge to facilitate our review. No compensation was received and all opinions are 100% my own.