How many times have you been waiting for a package from something that you ordered online and all you can do is peek out the window every few minutes to see if the big brown truck is coming with your packages? I used to find myself doing it waaayyy to often!

I LOVE having UPS My choice, whenever I am getting a package from UPS they send me an e-mail a day or 2 in advanced to let me know, there is no guessing when my package is going to come and it gives me the tracking number so I can go check my UPS My Choice account and see where the package is!!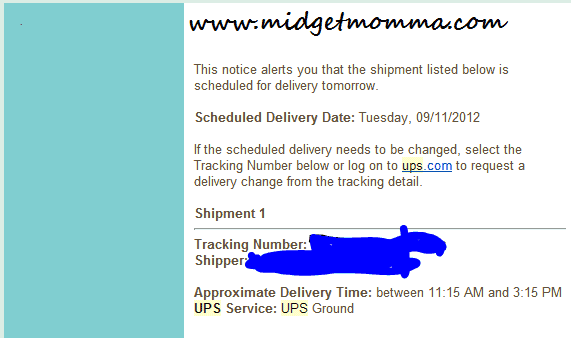 Right now you can sign up for UPS My Choice for FREE and it is completely FREE to use! With the holiday shopping season getting under way this is a great way to know ahead of time that something you ordered is coming in case you need to make sure other people in your house don't get their hands on it first and open it 😉
Sign up for UPS My Choice HERE for FREE!
This post may contain affiliate links. Please read my disclosure policy here