My older two are in school all day long and Alyssa goes to school 3 afternoons a week but is wanting to do more. She tells me each day that she wants to learn to write her name and that she wants to learn to read like the big kids. Even though she is only 3 years old I figured it is not to early to get her started with a little bit of fun and learning at the same time.
When we were offered to check out the new LeapFrog LeapReader, it seemed like it was going to be just what we were looking for.
The LeapReaders are easy to use, and the books that come with it are fun and focused on what the kids will be interested in. They also have books that are to help kids learn with writing. While Alyssa is only 3 and writing is not something we are focusing on we are focusing on how to hold a pencil, what letters are and their sounds and this is a great way for her to do it.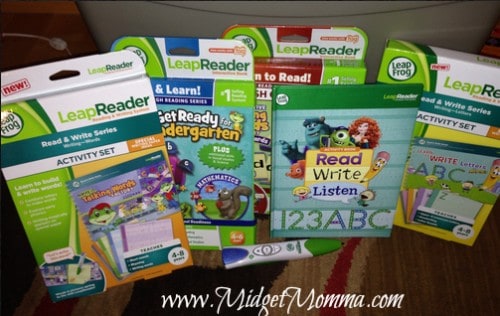 The sets you can get for the LeapReader are great, there are activity sets, reading sets, word card sets and books that have Disney Character stories!
The books are also great for Alyssa wanting independence in reading, she can use the LeapReader and have the story read to her from the device and she can do it herself "like a big girl". She enjoys being able to get her book, get her reader and sit down and enjoy some reading time just like the older 2 kids do.
I have also been using this for Logan, who is 6 years old. We use it to its full use with him and it seems to be helping him in being able to read words and with his writing. He is left handed and with no one else in the house left handed writing as been on thing we struggle with a bit. The LeapReader has been a great way to give him the extra boost of help with out having mom and dad hoovering over him to help him.
These are definitely something that would make a great gift for a kiddo who loves to learn , read and write 🙂
Disclaimer: We were provided product free of charge to facilitate our review. No compensation was received and all opinions are 100% my own.