With summer time here and us being go go go it was essential that McKenzie's new sneakers were ones that would be able to handle the beating that I knew she was going to give them. Along with that I needed her to have ones that had a great support for her feet and were a flexible sole to keep her feet healthy.
One of my favorite brands for kids shoes is Pediped, I know you have heard me talk about them often and it is because the quality is there that I am looking for in a shoe for my kids. McKenzie was sent a pair of the Flex Venus Pewter in purple. These sneakers made McKenzie excited, as a child who is not a fan of sneakers and would much rather be wearing sandals or flip flops convincing her that she needs to wear sneakers at times can be a challenge. The ones we were sent are purple and silver, both sporty and fashionable (to go with her outfits of course) and supportive and flexible for her feet. It was a great compromise to make with her and she loved the colors.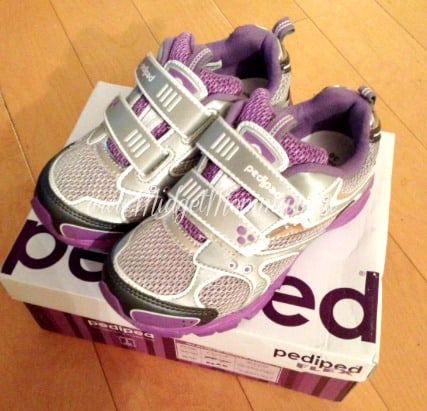 About Venus Pewter, Purple
Specially designed for kids, Venus is the perfect combination of technology and style. This stylish athletic shoe with pops of purple features flex grooves that provide maximum flexibility, a breathable mesh upper that allows for airflow and a heel cushion that protects against impact and distributes pressure evenly. pediped's line of athletic shoes featuring Ultra Light Technology™ is comfortable, stylish and ideal for your little athlete.
All natural rubber sole

Athletic shoe with Velcro strap to keep shoes securely in place

Ultra light weight of 5 oz (based on a size EU 27/US 10 kids shoe)

Flex grooves to ensure natural motion

Breathable mesh uppers

Machine washable

Features the Flex Fit System™, which allows children to adjust the fit of their shoes and prolong the length of wear

Approved by the American Podiatric Medical Association for promoting healthy foot development
The support from Pediped is amazing, the soles of the shoes have memory foam technology which make it so it fits yours child's foot the way they need to and get the support they need and the Flex fit system gives you additional insoles so your kids have a custom fit and the can wear them longer!
PediPed also offers a lot more to make moms happy, you can toss these shoes right into the washer and they come out looking brand spankin new! Win for me (or should I say Tom since he does the laundry) and all the dirt from our adventures comes right off:)
This post may contain affiliate links. Please read my disclosure policy here