Giant grocery stores reached out to use about trying out their new line of organic products, Nature's Promise and sent us gift cards to do some shopping. I decided that I would give each of the kids $25 to shop for items that they wanted when we went to the store and figured that we would end up with a whole lot of cookies and candy.
Giant sending us a few tasty treats in the box they sent our gift cards in, and I did not tell the kids that there was a package of animal cookies in it. Well Alyssa found them after our shopping trip and said "These would make a perfect after school snack"! I don't think she was to thrilled that I forgot to mention that they had been sent LOL. However she did enjoy them for her snack the one day after school last week 🙂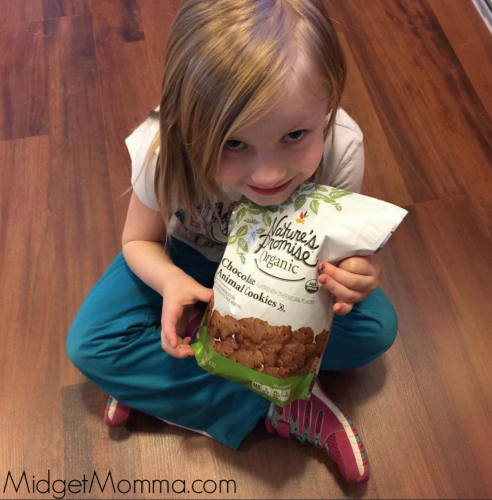 We headed to Giant and I "let the kids loose" to do their shopping. As we wondered up and down the aisles, I was in for quite a shock at the items my kids were going to select to spend their money on. I knew what I was going to be buying since I had done meal planning and ended up having to adjust my shopping because they were adding dinner items such as frozen fish and a whole chicken! That was not what I expected them to add into the cart, in fact they also picked items for their lunch box snacks and we only ended up with 1 package of cookies!
The older two were happy to comply with a preshopping trip photo…..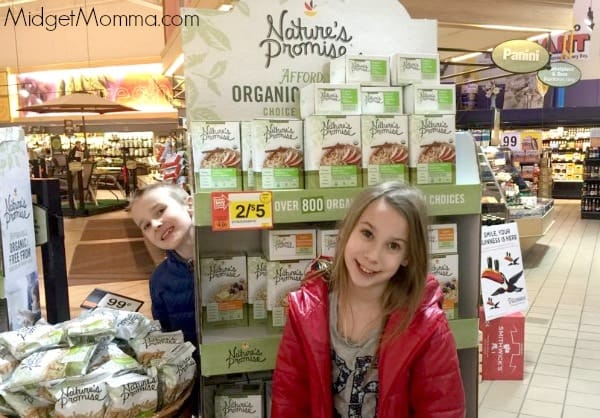 Alyssa just wanted to get to the shopping ….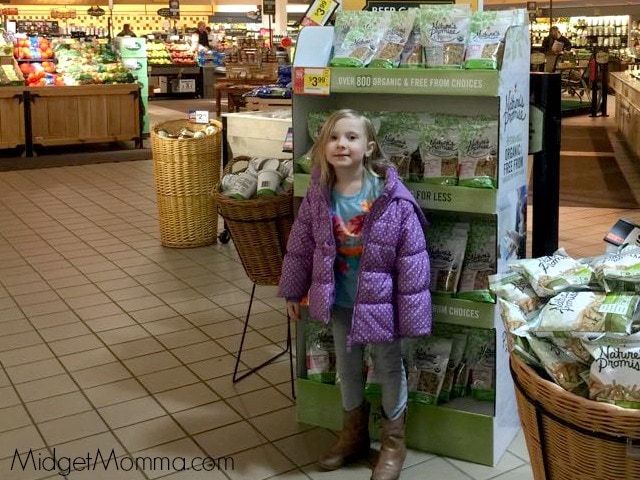 The Nature's Promise line can be found in all departments through out Giant stores. From the produce section, where my kids grabbed bags of apples, oranges, and green beans among other things. To the snack section where the kids grabbed pretzels, nuts and popcorn. Then in the fresh meat section the selection of beef, and chicken, where my kids picked a whole chicken. Yes a whole chicken is something the kids picked out. I was quite shocked at their thinking process for that one! The frozen section of the store is filled with veggies, seafood and more all under the Nature's Promise line as well.
McKenzie and Logan found the seafood that they wanted… They were quite happy that they had many different option in the seafood section, but it did take some compromising on the two of them to figure out which one would be best for dinner.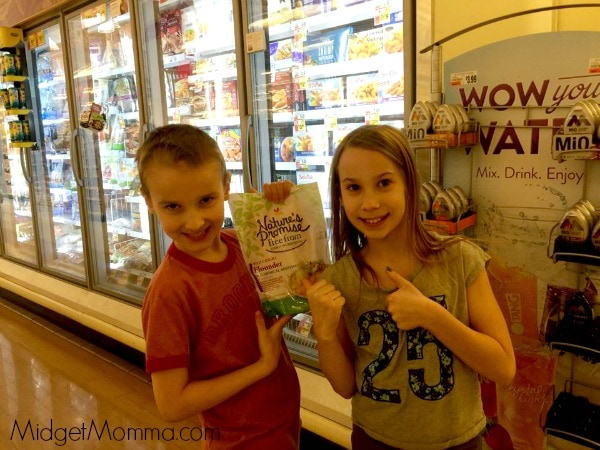 This is what we ended up with when we were all set and done! Well most of it – because no matter what angle I tried I couldn't get it all in the photo! We did end up not getting as many veggies as they offer because I had already done my fruit and veggie shopping earlier in the week. But the kids are stocked up on their lunch snacks and ones that I can be happy about them enjoying for a long while!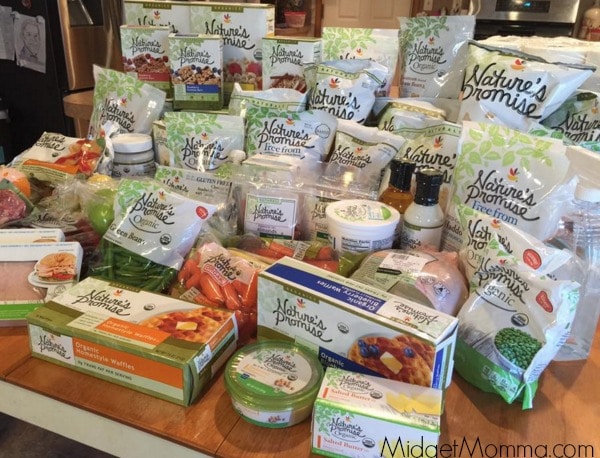 This past week we have been eating nothing but items from our shopping trip (and the produce I had bought before our trip) and everyone has enjoyed it. I can happily say that no one has complained about a meal yet! As a mom I like that there are organic grocery items that can fit my budget – I want the best nutrition wise for my kids, but I also have a budget that we need to stick to. The Nature's Promise line at Giant allows me to stick to my budget and add more organic items to our shopping. I spent all of our gift cards ($175 – $100 me and $75 the kids) on this trip which landed us about a months worth the lunch snacks because that is what the kids picked however we also got just about a weeks worth the food aside from milk!
We had a weeks worth the breakfasts – Oatmeal, waffles and cereal (which we still have a full box of cereal left).
We had a weeks worth of dinner: Ravioli, flounder, chicken, Haddock, pancakes (which we did breakfast for dinner) and a pork roast and veggies.
We had a weeks worth the lunches, including lunch meat, hummas and pita chips, the kids lunch box snacks.
I could easily plan around their sales and stick to my budget and have the organic versions of the foods my family enjoys by shopping the Nature's Promise line at Giant!
The kids have already made it known that the popcorn, pretzels and granola bars they had as their snacks for lunch this week are ones I need to always buy. The Nature's Promise Vanilla yogurt I topped with blueberries in their lunch boxes and they told me that it is the best vanilla yogurt I have bought (we have been trying different brands to find out which one we like the best, YEY! for finding it!) and that is the one they would prefer I buy on a regular basis.
Spotting the Nature's Promise items in Giant was SUPER easy. The kids had no problems finding them, which is a BIG plus, because no one wants to be digging thru shelves trying to find the brands they want to.
The kids had fun doing their shopping and while next time they won't have a free for all on whatever they want, I know the things that they do want and I can fit them in my budget when doing my shopping.
The kids and I had so much fun shopping that we want to help out a MidgetMomma Reader too! One MidgetMomma Reader is going to win a $25 Giant Gift Card! 
How to Enter:
Mandatory Entries:
Leave a comment telling me what you are most excited about with the new Nature's Promise line at Giant
Sign up for my daily newsletter here  so you never miss a thing
Extra Entries: 
Follow me on Pinterest – 1 entry
Follow me on YouTube – 1 entry
Tweet – I want to win $25 @GiantFood Gift Card from @MidgetMomma1200 https://www.midgetmomma.com/?p=151300 – 5 entries per day, entries must be 2 hours apart
Follow MidgetMomma on Twitter  – 1 entry
Follow Me on Instagram – 1 entry
Follow Tom on Instagram – 1 entry
Follow Tom on Periscope – 1 entry
Follow Tom on Twitter – 1 entry
Giveaway Rules:
No purchase necessary to enter, leave a separate comment for each entry method. This giveaway is not associated with any of the entry methods. This giveaway will run till 11:59 PM EST March 15, 2016. The winner(s) will be picked using And the winner is (a random winner picker) and will be announced in a new blog post. Giveaway is open to US residents who are 18 years or older. Winner will be contacted and have 48 hours to reply to contact e-mail or the prize is forfeited.  Open to US only. Prizing provided by Metromile.
Disclaimer: This post is sponsored by Giant. All opinions are 100% my own!