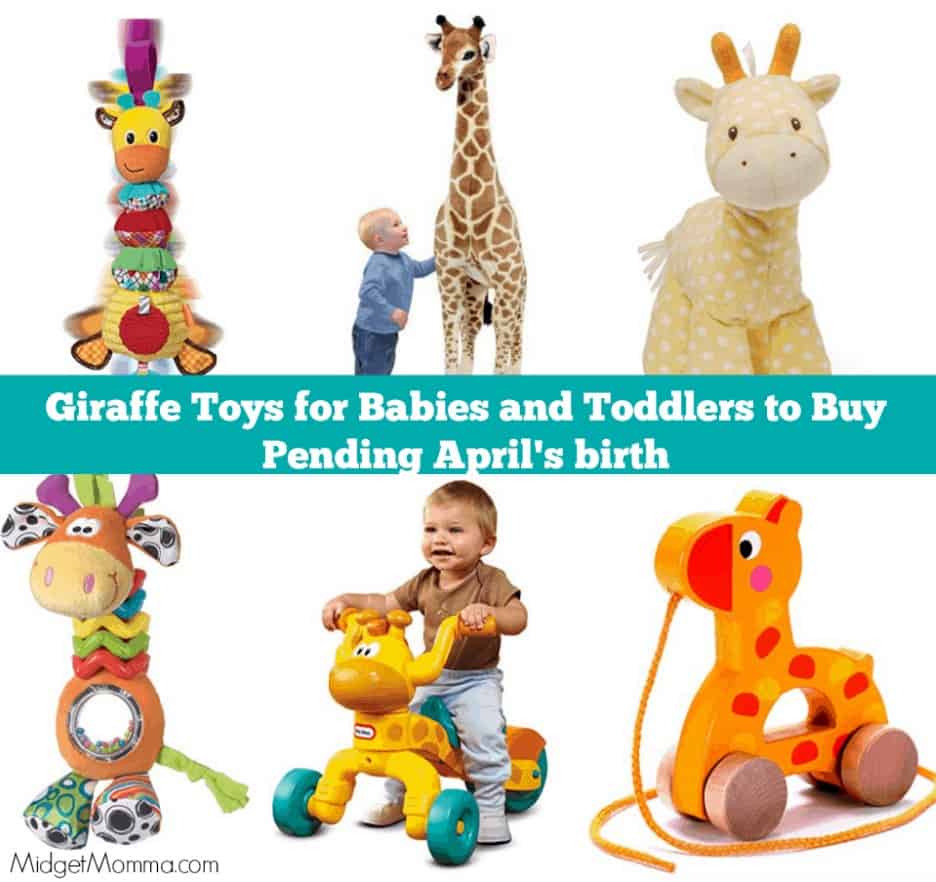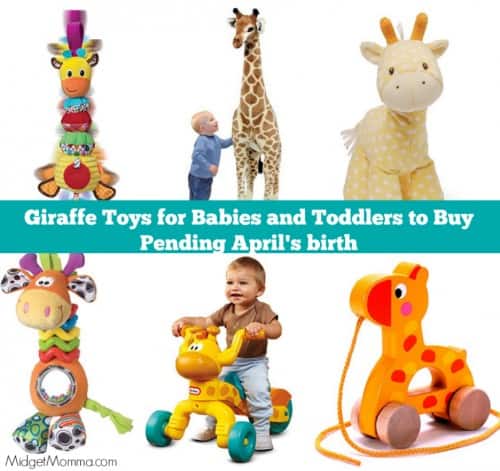 I can not be the only one waiting (im)patiently for April to have her baby giraffe. Of course we also know that giraffes are super cute and so are the giraffe toys that they make for babies 🙂 So while we all sit around watching the countless hours of her "before birth" time I thought I would round up a list of super cute Giraffe Toys for Baby to Buy Pending April's birth!
Giraffe Toys for Baby to Buy Pending April's birth
Playgro My First Bead Buddy Giraffe for Baby 
Rattle beads and click-clack sounds for auditory stimulation
Mix of fabrics encourages tactile development
Easy for little hands to grasp
Stem toys for a bright future
Little Tikes Go and Grow Lil' Rollin' Giraffe Ride-on
Friendly giraffe ride-on and scoot toy with adjustable seat
The over-sized back wheel provides added stability and includes a wheel guard for safety
This toddler riding toy can be used indoors or outdoors
Builds coordination, balance and large motor skills
Customizable "spot" decals included
Adorable Pull-Along Giraffe on four wheels with 2 feet of hard wearing yellow string
At 5 inches high, it's the perfect sized companion for a 1 year old taking their first steps
Made from durable and sustainable wood, to take the rough and tumble of toddler life
Features a cut out middle section, so the toy can be grasped and pushed along the ground
TOLOLO Cute Animal Hand Ring with Teether
✿ This series of fun toys, using Elephant, Monkey, Lion, Giraffe, Duck, Puppy for the cartoon image , with rich colors to meet the different baby's preferences, the baby in the play to know different animals;
✿ Unique design: built-in ring, toy ring placed in the body, Make sound paper when baby grip can be issued crisp sound, promote baby hearing development;
✿ Teether on the toy can be good to help your 0-3 years old baby get rid of Thumb-sucking this bad habit;
✿ Built-in BB devices: the toy head built-in BB device, When the baby gently pinch toys can make noise to attract the attention of the baby, exercise baby's sensory development and coordination;
✿ Let the baby caught in his hand, in his mouth, lying down can pull a non-stop, exercise baby's sensory development and coordination;
Infantino Hug and Tug Musical Giraffe
Pull down for fun music, motion and activities
Plays music for 90 seconds as this huggable bug slowly moves back-up
Includes 2 clacker rings, peek n' see mirror and knotty legs
Little Giraffe: Finger Puppet Book
Spend a day at play with Little Giraffe in this fun and interactive reading experience for parent and child.
Interactive Toy Infant Baby Development Soft Giraffe
MATERIAL: These stylish drool bibs are made of high quality polyester fibers(no harmful materials). They can also be used when nursing or feeding and are machine washable.
The plush giraffe animal with a variety of colors for early visual development.
Flexible legs for babies to practice the grip ability. The medium sized handhold part is suitable for baby's grasp,it makes fantastic sound when shaking and pinch ,which promotes the growth and development of kids!
Application: Babies from birth up to 24 months for crib. Whether playing in his crib, sitting in the high chair, or traveling in the car, your little one will enjoy hours of interactive play and exploration with this cute, cuddly toy.
Gund Baby Lolly and Friends Stuffed Giraffe
Lolly and Friends polka dot yellow giraffe plush with satin accents
Available in matching ring rattle format
Embroidered eye and nose details for added safety during play
Melissa & Doug Giant Giraffe – Lifelike Stuffed Animal (over 4 feet tall)
Awe-inspiring lifelike plush toy with beautiful markings and realistic details
Hand-crafted with care
Soft polyester fabric
Surface washable
Ages 3 years and up