Girl Scout Cookie Samoas Hot Chocolate
It is no secret that I have a huge love for Samoas girl scout cookies and if I could stock my freezer full I totally would so they would last all year long!
Today I wanting the yummy flavor of those girl scout cookies and was not in the mood to make the Girl Scout Cookie Samosa Cakes so I found a way to make hot chocolate taste just like it! And it is just 2 ingredients and takes just a few minutes to make!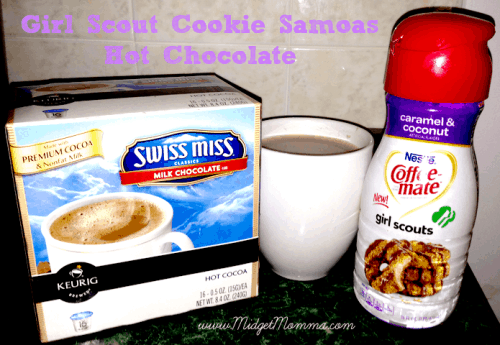 Ingredients:
Swiss Miss Hot Chocolate (I used the k cups because that is what I had on hand but a pack of hot chocolate mix would work well too)
3/4 cup Coffee Mate Caramel & Coconut Creamer
Directions:
Make your hot chocolate and stir in 3/4 cup of creamer
Tada! Super easy and tastes amazing!