This is a Sponsored post written by me on behalf of Fresh Step and Meow Mix. All opinions are 100% mine.
As you all know we have three cats, Tucker, Jazmin and Muffin (who we recently found out his real name is Skippy and we are working on readjuting to calling him his real name lol) but back to my cats LOL. They are a a big part of our family and they are more like 3 more kids then cats and they are all spoiled rotten.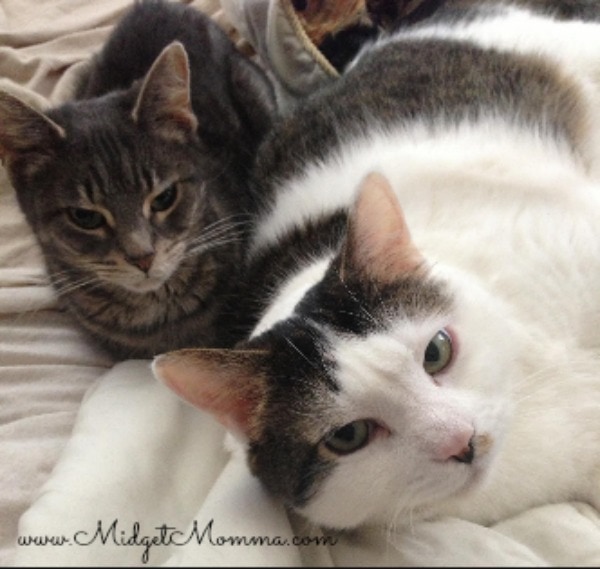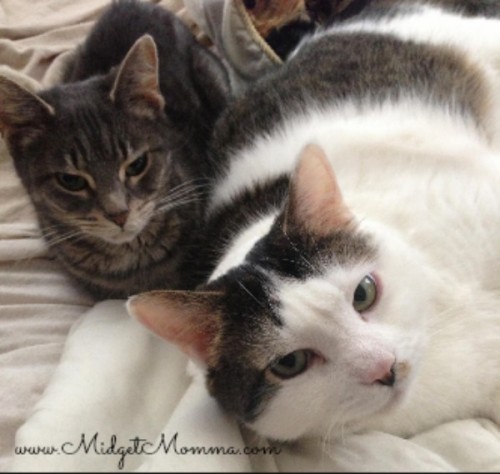 That is Tucker (the white one) and Jazmin, Muffin was having nothing to do with a camera in his face so hopefully he will not run away for the next post and you can get a peek at him too 🙂
While Tucker is only supposed to have his prescription food due to his medical problems there are times I give him a treat and sneak in a bowl of non prescription brand food. His favorite is anything that has shrimp flavor so the Meow Mix cat food is a great treat for him!! The other two are not as picky as he is and anything but the day to day prescription food that they all normally eat (because Tucker will sneak in and eat it all) is always welcomed by them! I am looking forward to seeing what the kitties all think about the Meow Mix!! 
With three cats litter boxes can be a giant mess, and really stink up the house so I am always looking for a new cat litter that can help with the problem. Tucker and Jazmin share a litter box (try getting the 2 of them to use a different one is like pulling my own hair out and a battle I gave up on) and Muffin has his own, so Muffin's is not to bad but the other one can get bad fast! I need a way to eliminate litter odor instantly because otherwise I am having to change the litter everytime they use the box so I am looking forward to seeing how well the Fresh Step® works with my furry babies!
The 4 of us are going to be going on an adventure and testing out these 2 different products to see how we all enjoy them! So be sure to check back soon to see how everyone enjoys these products for our furry family members!
You can purchase Fresh Step and Meow Mix at your local Walmart and make your furry family members happy along with having a clean smelling house!