Anyone else ever feel "stuck" trying to figure out what to get Dad for Father's Day? I always want to make it fun and special for Tom but then I feel like I am giving him the same thing over and over. Really how many painted by the kids hammers or screw drivers does he really need? I do not know if I want to tell you how many he actually has LOL, it is a LOT! Of course as the kids have gotten older they are not to excited to paint hammers and screw drivers either, so that kinda kicks that idea out anyway.
The kids and I have come to where photos are the best gifts for us to give Tom. Finding photos from a special memory that we made as a family and turning them into a gift for him are our go to.
We had sooo much fun with our Kitchen Sink adventure when we were in Disney World a few weeks ago. It was on Tom's "must do list" and it is definitely a time we are all going to remember. This year Tom is getting a Photo Canvas of the 5 of us in Disney World getting ready to eat the "Kitchen sink".  This way anytime he looks at it he can remember the fun we all had while attempting to finishing the ginormous ice cream dish! I couldn't think of a better way to keep the memory alive for us then having a photo canvas of us about to dig in  🙂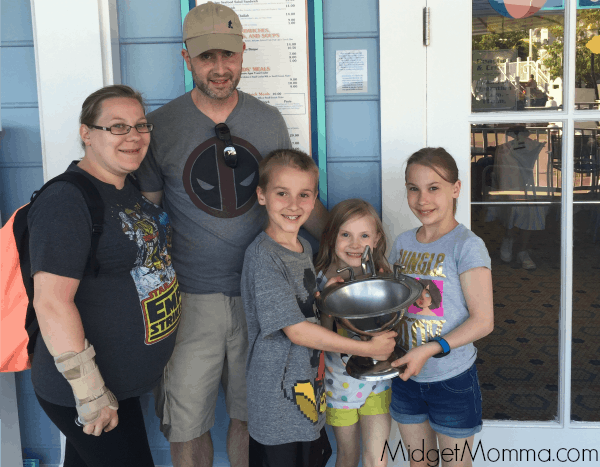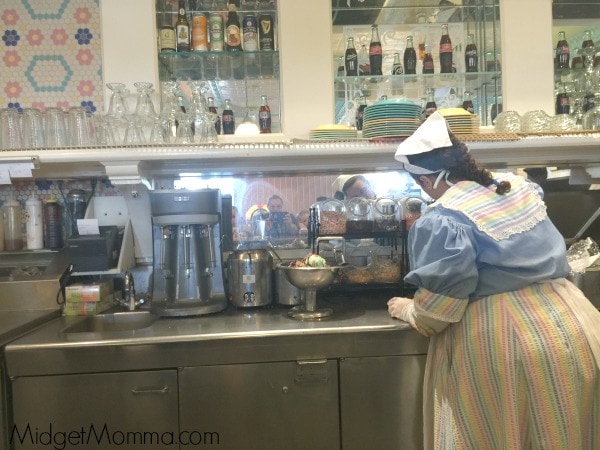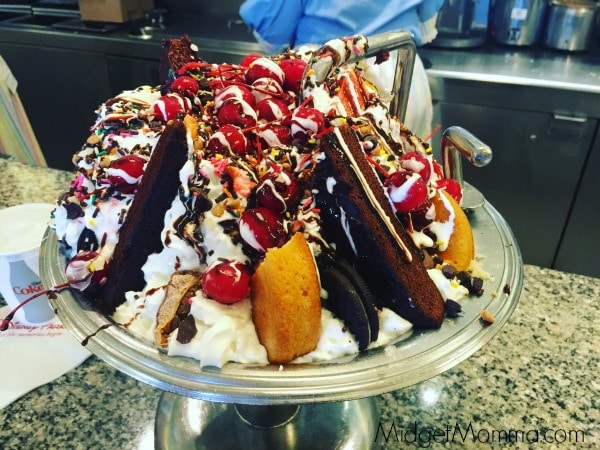 Can I tell you how hard it was to take a photo of the canvas with out Tom seeing me do it. It seemed like every single time I went to take the photo he popped up out of no where!
Walmart Photo makes it easy to put our memories into gifts. You can either order online and ship to your home/pick up in-store, or order in-store at a kiosk! If you are a last minute planner then you will love that you can order online and many items have 1 hour pick up or same day pick up! I get it, trust me! Days go by crazy fast and then BOOM, it is the day before Father's Day and you are needing your gift for Dad. I have been there and 1 hour pick up and same day pick up are the best for making your slip up not known 😉
What Photo gifts can you get at Walmart?
Cards: These can be done instantly or via 1 hour order! There are lots of great sizes and design templates to pick from too!!
Photo Canvas: You can order online and then pick up in store SAME DAY!
Personalized Mugs and Tumblers: Easy to design and personalize to make the perfect gift!
Photo Prints: Pick your favorite photos and get them printed out.
Photobooks: Order online and then pick up in the store SAME DAY!!!
To help you with your Father's Day gifts One MidgetMomma Reader is going to win a $50 Walmart Photo gift card!!
To Enter:
Share a photo to celebrate Father's Day on Facebook, Instagram, or Twitter using the #CreatingKeepsakes and tag @Walmart and @MidgetMomma (instagram), @MidgetMomma1200 (Twitter) or MidgetMomma.com (Facebook)
Extra Entries:
Follow Me on Instagram – 1 entry
Follow me on Facebook– 1 entry
Follow me on Pinterest – 1 entry
Follow me on YouTube – 1 entry
Tweet – I want to win $50 Walmart Gift Card from @MidgetMomma @Walmart #CreatingKeepsakes  – 5 entries per day, entries must be 2 hours apart
Follow MidgetMomma on Twitter  – 1 entry
Follow MidgetMomma on Periscope – 1 entry
Follow Tom on Instagram – 1 entry
Follow Tom on Periscope – 1 entry
Follow Tom on Twitter – 1 entry
Giveaway Rules:
No purchase necessary to enter, leave a separate comment for each entry method. This giveaway is not associated with any of the entry methods. This giveaway will run till 11:59 PM EST June 10 , 2016. The winner(s) will be picked using And the winner is (a random winner picker) and will be announced in a new blog post. Giveaway is open to US residents who are 18 years or older. By entering this giveaway you are giving consent to be added to the MidgetMomma daily newsletter. Winner will be contacted and have 48 hours to reply to contact e-mail or the prize is forfeited.  Open to US only