In our house December-March is a crazy time, We have hubby and I's anniversary on Dec 17, Christmas on the 25th, Little Man's birthday is January 16, Princess Pretty Pants' birthday is on January 26 and Angel Face's birthday is February 3rd, then Valentine's Day is Feb 14 and then my Birthday is March 2. So for about 3 months we have something going on every 2 weeks. With so much going on it could become very expensive, but there are things we do to save money, especially with our Children's Birthdays. Here are some tips for saving money for birthday's and birthday parties.
Combining Parties for children with close birthdays
-Since our children's birthday's are so close together, we do 1 party for all of them. To have family and friends travel 2 times(this year would be 3 times since it will be Angel Face's first birthday) would be a lot to ask of them especially since they would be having to travel to us or where ever the party is 3 times in 6 weeks. If you have children with birthdays that are close together combining birthday's can save you a lot of money. We have the kids pick a few friends to invite(the past few years they were not in school or they were in preschool and the same class, so their friends were the same). This way each of them can have the friends that they want at their party. It also gives us the ability to have their party at a nice place (last year it was at a children's museum) with out us breaking the bank.
Goodie/Treat bags
Trinkets and candy for goodie/treat bags can really add up. I was at Party City looking around a few days ago and saw that they had Princess Pencils, 8 in a pack and they were 3.99! That is almost .50 a piece. With things at that price a treat bag could easily cost you $5-$10 for each kid who comes to the party!
– Saving Money on Goodie Bags
-Buy things after the holidays: After Halloween I went to Target and found Disney Puzzles(1.00 each for 12 puzzles I bought 3 bags) and Candy like Laffy Taffy(1.00 a bag I bought 2) and Pixi Stix(.50 each I bought 2) for dirt cheap. The puzzles did not have any Halloween decorations so they are not holiday looking which works great for treat bags. I also found bags of Silly Bandz for .50 each (they had 20 individual packs with 4 silly bandz in each) at Shoprite(i bought 3). So in each bag each child will get 1 puzzle, some candy, and a package of Silly Bandz and there is enough to make 36 treat bags all for 7.50!
– Use solid colored bags instead of the themed ones. You can find the solid colored treat bags for cheaper then the themed ones all the time, you can also get the solid colors ones on clearance after Holidays like Halloween, Christmas, Valentine's Day, and Easter. If after every holiday you buy the clearance treat bags you will have a large variety of colors to use to go with whatever theme you are doing, but then again the treat bags do not have to match the theme of the party.
The Party Theme/Accessories
Doing themed parties can be very expensive after buying the plates, cups, napkins, table toppers, balloons, streamers and everything else that they sell to go with having a birthday party.
-Pick you theme, and the colors you want to use. Instead of buying everything themed pick certain things that will be themed and do everything else in solid colors to match. We normally do the themed table cloth and a table topper. The plates, forks, napkins, balloons streamers ect. are all in solid colors. The price for a pack of 20 plates in solid colors at Party City is .99 for the cake plates, if I were to get the princess plates I am then paying 4.99 for 20 cake plates. That is quite a bit of savings buying solid colors.
Food-
You can save money by the time of day you have the party, if you have it at a meal time people will expect a meal, but if you have it between meal times you can do things like finger foods and snacky type food likes veggies, fruits and pretzels instead of ordering pizza or making a big meal to feed everyone.
Cake/Cupcakes
Cakes in a store can be expensive but there are ways to save money on that too. If you are like us and have a stockpile of cake mix and icing you could buy a cheap cake pan in the shape of your party theme and bake and icing it yourself. Another money saving option is cupcakes, the cupcake wrappers can be solid colored to match your theme or they could be themed and baking them at home(even paying full price for the box of cake mix) will save you money. My grocery store sells cupcakes in 6 count packages for 2.99! You can get cake mix and icing for that price and make your own and have 24 cupcakes!
Activities For the kids(for an at home party)
When you do a party at a place normally the activities are included and you do not have to come up with things for the kids to do. But when you have the party at home you need to have some activities.
-Pinata: All kids love pinatas, you can make them easily and fill them with little candies and toys that you find on clearance, and even if you buy one in the store you can get one to match your theme or you can get one that just matches the color(which is cheaper then buying the theme one). You can also save money by having the pinata replace the treat bags and put the treat bag stuff into the pinata.
-Have activities that go along with your theme.
-If you are doing a Pirates Party you could make a treasure chest out of a cardboard box and make a map for all the kids to follow to lead to something(Treat bags if you are having them or the pinata), leaving clues in places you have the map lead to until the end where they find their big prize. A "find you treat bags/pinata" activity can be used for any theme just change it up a bit to match your theme.
-Crafts are a good activities for kids at parties, but they need to not be to complicated or messy or it becomes overwhelming, so we tend to do easy crafts that the kids still enjoy. If you are having a princess party you could get string and sparkly beads and have the kids make necklaces and bracelets. All themes have a craft that could be done and another plus is the kids get to take home what the make:)
-Dancing- All kids love to dance, setting aside a time frame for everyone (adults included) to dance is an almost free activity and it is a ton of fun.
One of my favorite Birthday Parties for my kids was 2 years ago, Princess Pretty Pants(her 4th Birthday) and Little Man's Birthday(his 2nd birthday) 2 years ago. My daughter wanted Dora and my son wanted Diego (a great combination for doing a boy/girl party and very easy to make work on a budget). We did this party at home instead of going somewhere to have it.
Instead of a cake we did cupcakes, decorated like Dora and Diego. I can not find any good
pictures of my son's Diego Cupcakes but here is a picture of the Dora cupcakes.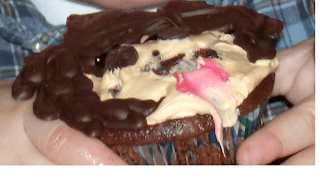 And here is the best picture I could find of the Diego cupcakes, even though he is missing his nose and part of his mouth, my son couldn't wait to eat it lol.
We also picked out 1 Diego tablecloth and 1 Dora table cloth, and then used the colors that were the same in each table cloth for the paper plates, napkins, plasticware and streamers. I wish I could fins a picture of the whole Dining room all decorated because it came out fantastic! )
What are somethings that you do to save money for Birthday Parties?