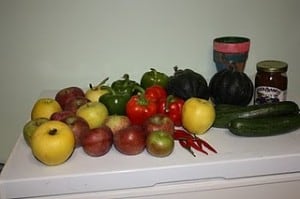 I love sharing ways we save money with all of you, that is what I do and what I love to do! We often talk about saving money by deals, coupons and getting high quality products but what I sometimes neglect to talk about is how cutting the "junk foods" out of your diet can save you a TON of money, healthier, natural foods are not just better for you but they can save you money.

MY LATEST VIDEOS
Have you seen the price of a 12-pack of soda lately, the non sale price is $5.49 just for 12 cans, thats .47 a can!  You could be saving a lot of money by drinking water, it is free from the tap and it is so much healthier for you. Even if you do not like water right from the tap, buying a filter is way cheaper then soda. We have well water and personally I love the taste. We used to be big soda drinkers and me cutting back has definitely helped our budget, even when we would only buy it when it was on sale and with coupons(now if I could just get Tom away from soda we would save even more money).
I have mentioned going fruit and veggie picking as a great way to save money, but it is also a much better choice then canned fruits and veggies when it comes to being healthier. Many canned fruits are in heavy  corn syrup, which means a TON of sugar, and I am sure if your kids have the energy mine do less sugar is best. Even buying the fruits in season is cheaper then buying them canned, a can of peaches is roughly $2 and there are 4 peaches in the can, when they are in season you can get them for .69 a pound! That is a lot more peaches for your buck then buying the canned ones.
Many times when we think of eating natural foods, we automatically think that we are going to be spending more money, but when you take a look at the prices (even when using a coupon) and compare them the natural, fresh options are the better buy. Of course for them to be the better buy you need to be knowledgeable  and learn when the best time to buy certain things is or you could end up spending more money. Knowing when the best time to buy fresh items is just like knowing when to buy your ketchup, just like sale cycles learning when the prices for the fresh items are the lowest is what will help you with your grocery bill while eating better foods.
Going  picking for fruit and veggies is my favorite way to save money and eat more natural foods, what is your favorite way to save money and eat more naturally?
Now you can enhance the coffee flavor you love with Coffee-mate Natural Bliss, a new all-natural dairy creamer made with only milk, cream, a touch of sugar and pure natural flavor. Flavors like sweet cream, vanilla and caramel add just the right touch of sweetness and delicious flavor for your perfect cup every time. Like us on Facebook for offers, news and more! 
  Disclosure: Compensation was provided by COFFEE-MATE via Glam Media. The opinions expressed herein are those of the author and are not indicative of the opinions or positions of COFFEE-MATE    
This post may contain affiliate links. Please read my disclosure policy here