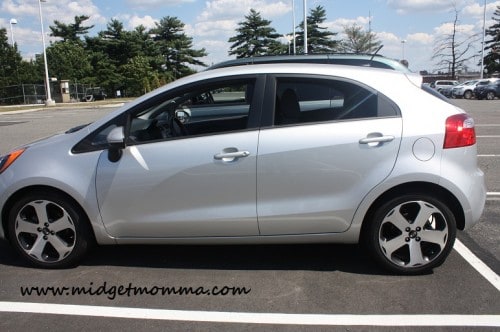 You know how the saying goes, "Good Things Come in Small Packages" well that saying holds true for the 2012 Kia Rio. This "little" car holds some big secrets that are just waiting to be found so don't let it try to fool you, make sure you open the door and get on it to see all that it has in store (or better yet keep reading and I will tell you all about it). I am sure you are looking at the picture saying the same thing I did when it pulled up to my drive way…."Where in the world is the trunk?!", that is the Kia Rio's first secret.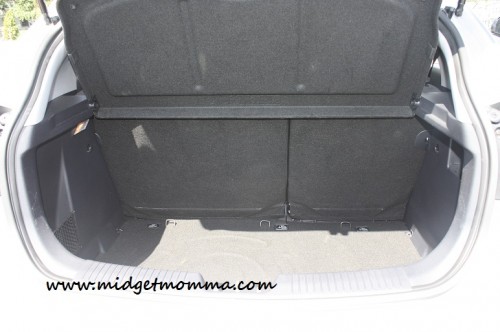 The trunk held a TON, groceries (and I am sure you know what most trips to the store for a family of 5 look like), a stroller and I had room to spare! It is huge! You know what instead of trying to describe just how much space there is I will just let you see for yourself! Now you see what I mean, that is no small trunk! It has more room then my current minivan does! If you are thinking of hauling some larger items, that is perfectly feasible too with the options of completely folding the seat down and the 60/40 split rear seat.
 With 3 kids a car this size is not what we would be able to use as a "family car" because there is no way our large Britax seats would all fit across the back seat. If you have kids who are older and in booster seats you would be fine and they would all fit in the backseat. The only downside to the backseat as a family car would be if the driver is super tall, the leg room would be rather tight, now if I am the driver no one would have any issues with leg room 😉 For those who would be putting children and carseats in the car, it does come fully equipped with the LATCH system and lower anchors to get those carseats in tight as anything 😀 While we are on the topic of space, I will share with you the inside space that this car has. As you all know I am short (4ft 10 1/4 inches to be exact) and so the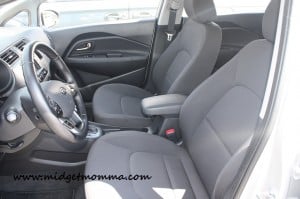 amount of leg room a car has is not all that important to me (I haven't found a car yet that I was to tall for), but hubby has a completely different take on leg room and needs the extra space (almost a foot more then I do!) and I did not hear a single complaint about not enough room or feeling squashed. The front seats are so easily adjusted that his normal routine of getting in a car after I have driven it is not that bad (think adjusting seat, both distance, height, mirrors the whole 9 yards), with all the buttons you need on the left hand side you can easily move the seat before getting in the car! For anyone who is short like me and wondering if I had any issues with seeing over the steering wheel, I did not, I was able to fully adjust the seat to fit me and my needs just as easily as hubby could his.
The sole purpose of a car this sized would be for hubby's long commute to and from work, which means there are specific things that we look for in a commuter sized car and this one has hit them all; comfort, gas mileage and easy of driving.
Comfort is of utmost importance and the Kia Rio doesn't fall short. While it doesn't have leather seats or crazy padding it does make for a comfortable ride. Hubby compared the seats to the ones in his 2002 Chevy Malibu and he said the Kia Rio's "feel like pillows" (for those of you that don't know hubby well any comparison to anything that involves his sleep is a positive,that man loves his sleep). The steering wheel and gearshift are leather-wrapped giving luxury and comfort for your hands
The comfort of the ride is not just in the seats and steering wheel, but the technology that the Kia Rio has to offer. In new Jersey it is illegal to talk on your cell phone while driving and those long drives home stuck in traffic were made a bit nicer when hubby could use tthe hands free bluetooth and call home for a quick few minutes of chit chat. There is also no need to worry about having to get a new phone charger to charge your phone, many phone charges for the home have a USB that gets put into the piece you plug into the wall and the Rio comes ready to go that you can just plug the USB part into the USB port and charge your phone as you go with no need to buy a "car charger". Aside from some chit chatting with me on his way home, he enjoys listening to sports radio talk shows or music, and his needs are fully taken care of thanks to the Sirus radio! The Rio also comes fully ready to go for those that are Ipod users, with a simple hook up already in the car you are ready to rock out to all the music that you have loaded on to your Ipod. For any of you that do highway driving often you know the power of "cruise control", those 2 magic words can be extremely useful come the long drive home after a long day at work and it is a luxury that hubby wishes he had all the time.
 Let's talk about the normally hated 3 letter word, gas. Gas mileage. Those words that I dread when talking about our minivan and the price tag to fill that up, well the words "time to fill up the tank" aren't bad words when it comes to the Kia Rio, filling the tank took about $20 and got hubby to and from work for 4 days (while sitting in rush hour traffic I might add). That is quite the difference from the days he takes my van to work, which run us a total of about $20 per day that he drives that and when he takes the Chevy Malibu we are looking at a fill up every 3 days. The 2012 Kia Rio gave our budget a bit of relief with its 40 miles per gallon highway and 30 miles per gallon city.
With a 1.6L, 4-cylinder engine, speed is not what comes to mind but when you are getting on and off exit ramps the ability to get back up to the speed of traffic is important. While there was a little bit longer of a delay in getting up to the speed of traffic it was not anything that would cause me to shy away from this car. Per hubby's words "I am not expecting a race car when driving a Kia Rio, I just need it to get to the right speed in a timely manner and that it does".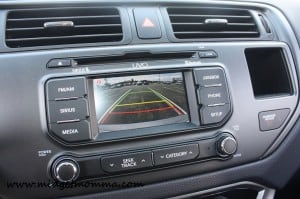 Ever since the first time I drove a car with the backup camera that is a feature that has been added to my list of must haves in the next car we get(even if I am not the main driver of the car). With being short comes challenges like not being able to see over the seats, or having a harder time with blindspots that taller people do not have and the backup camera takes all those issues and throws them out the window! If you have never thought about getting a car with the backup camera wait until you test it out, it will change your backup skills for the better (and take out the worry of if there is anything behind you that you can not see).
The safety features on any car are important to look at, and with a long commute on a long stretch of highway they are even more important (you know when you have people swerving in and out of lanes and cutting you off, you have no control of other people's actions). The Kia Rio comes equipped with all the important safety features (which thankfully we had no reason to test out). With dual front, front seat mounted and full length curtain airbags, they have you covered in the event of a crash. It is also equipped with anti-lock breaks, traction control, electronic stability control and vehicle safety management you are prepared for any type of driver you may meet while on the road and situations that you may encounter.
Of course you are wondering what a car with all these hidden secrets is going to cost you, and I am happy to say that hit is not bad at all for a brand new car, filled with space, technology, amazing comfort and a relief on the budget with awesome gas milage, the Kia Rio has a price tag of $17,000 (including all the fancy pants stuff I told you about). Every Kia Rio comes with a 10 year/100,000 limited powertrain warranty, yes you read that right 10 years!!!
If you are like me, when you hear the name Kia you have flash backs to back in the day when they did not have the best image and I remember my dad putting his foot down when I had talked to him about getting one when I was in high school. I am able to confidently say that the Kia brand you thought of a few years back is not the Kia brand you will get today. The improvements in the brand, from safety feature to technology I believe have given Kia a brand new image!
Disclaimer: A big thanks to Kia for loaning us the Kia Rio for a week so we could test it out and see all it had to offer. No compensation was received and As always all opinions are 100% my own! 
This post may contain affiliate links. Please read my disclosure policy here