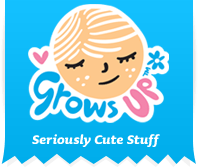 There is a new online store that just "opened" up on November 8, 2010, Grows Up! Started by Stephanie who went on the search for awesome products for Mom's, Babies and Kids. I really enjoyed looking around their website and loved it when I came across their blog and they give a peek into who they are and I think it is great!
Grows Up is a cute online store that has some adorable stuff! They carry some of my favorite brands, like Melissa And Doug. Which I was excited to see when I was looking around their site.
They carry different items from different stores like Collette Kids, Green Toys and many more. They sell clothing, toys, Furniture, Bath stuff for babies and kids, baby gear and shoes.
Shipping is a flat rate of $8 for all orders under $150, orders over $150 ship FREE.
Keep your eye out for a special promo offer that will be just for Luxury Living Frugal Style Readers!
Disclaimer:This is a sponsored post, I was compensated for this post. All opinions are honest and my own.
Join the newsletter
Subscribe to get our latest content by email.
This post may contain affiliate links. Please read my disclosure policy here