This is a guest post brought to you from The Trucker Wife! I think this is an AWESOME Idea for those on a budget and short on time. You can use things that you already have in your house and make one really fun couples costume!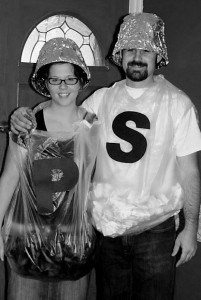 SALT & PEPPER SHAKERS
This was last year on Halloween.
The hubby and I were trying to think of something cheap and easy for a Halloween costume.
When I came up with this idea ….
He looked at me like I was CRAZY.
But, he loves me enough to push through my crazy and do it anyway.
(he's pretty awesome like that)
This costume cost me zero dollars out of pocket.
I wore a black t-shirt I already had and he wore a white one he had. (I think we had to turn his inside out because he didn't have any plain white)
I used clear trash bags (my old boss from high school owns a pizza place and I remembered them having big clear bags, so I offered to pay for 2 but they donated to my crazy cause! 🙂 )
I printed the S and P off big enough to cover an entire 8×10 page with my word program on my computer.
I found two matching sand buckets of the girls and covered them with aluminum foil.
(I also used some black paper and cut out small circles to put on top of the foiled buckets, but this is not necessary because we found most people don't look at the top of your head. LOL)
We stuck our heads through the bottom of the bag and then our arms, and tied a knot in the bag as securely and close to our body as we could.
To make us look "full" I used crumpled up white paper in J's bag and I used crumpled up black construction paper in mine. (we found the easiest way to do this was to put the bag on you first and stick it down the same hole you made for your head.
That's it! We made these five minutes before we walked out the door for the church trunk or treat. 🙂
They were a big hit!