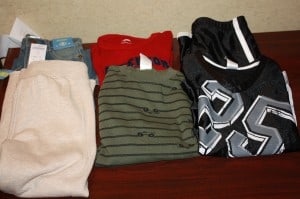 Gymboree is one of my go to places for my children's clothes. When they have their sales and you combine them with coupons you can score amazing deals! We went to the local mall here and I didn't have my 20% coupon with me (I did not even think I would be going to a Gymboree here in North Carolina) but I did have my $5 Rewards coupon. (If you are not a member of Gymboree Rewards then you really want to be you get money back in the form of money off coupons when you spend money during certain parts of the year and the coupons can be combined with % off coupons).
I bought:
1 Pair of Jeans
1 Pair of Shorts
2 Long sleeved Shirts
1 pair of sweatpants
1 Short sleeved shirt
I paid 21.29 (including the 6.75% Sales tax in North Carolina)
The retail Value is $102.00 That is a savings of $80.71 a 79% Savings!
This post may contain affiliate links. Please read my disclosure policy here