As you all know the past few months things have been crazy here and I have not been feeling well (Thanks IUD you can read posts about that here) but any way that has also meant the things I normally did to clean my floors did not work anymore. I used to scrub the floors by hand (yes I know a bit old school when there are so many other ways for me to clean the floors) but getting on the floor left me numb and tingly from crouching down and it took me forever. Those issues lead to me neglecting my floors and only cleaning them when absolutely necessary, which I hated. When the opportunity to review the HAAN SI75 floor cleaning came to me I was excited, I read about it online and it seemed like it was a great way to get away from the bending down to clean the floors that I had been doing.

Once it arrived, it was super easy to put together  I just snapped the handle in at the top, filled the water container, plugged it in, pushed the power button and with in 30 seconds I was on my way to cleaning my floors! Yes the cleaner only takes 20 seconds to heat up, the extra 10 seconds is me lifting it from the pad (that you stand it on when it is heating up) and walking to where I wanted to start cleaning!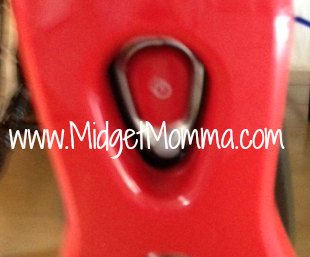 Cleaning the floor was easy, all I had to do was walk and push the cleaner across my floor and it cleaned it spotless! This has to be the littlest effort I have ever put into cleaning anything (aside from when the hubby does the cleaning). It didn't take long at all either, I was able to get my kitchen and dining room floors cleaned in about 15 minutes! Soooo much shorter and easier then getting on my hands and knees and it did the job better then what I did on my hands and knees! It even got acrylic paint off the floor that had dried and I had missed when the kids were painting canvases a few days before hand!
The weight of the HAAN SI75 is super light, I can easily carry it up stairs to clean my bathrooms with out feeling like I am going to fall over when carrying it up the stairs.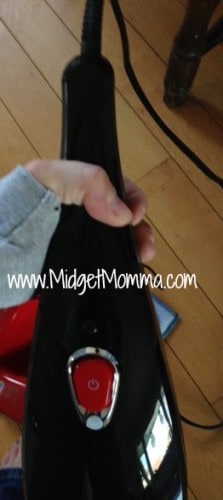 The HAAN SI75 also comes apart into a smaller cleaner and has attachments that make it super easy to get into the smaller spots you need to clean, like behind the toilet and I didn't have to bend over far and it got it clean fast enough that I didn't get numb at all! Total win in my book!
The HAAN SI75 uses only water and a cleaning pad to clean, which means I am also not spending money on the floor cleaners, so it is helping my budget when I don't have to add those supplies on my shopping list!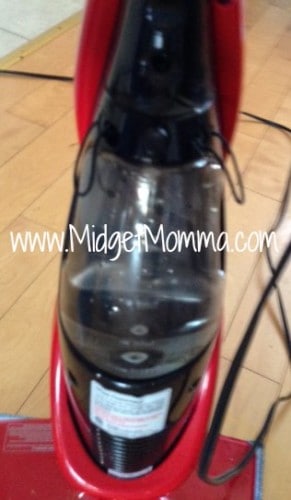 The only thing I would change about it is the water tank, it could be a little bit bigger but at the same time that would make it heavier and I love the weight that it is now. I am able to clean my kitchen and dining room on one tank of water and then the 3 bathrooms, my hallway, landing and areas of my living room that do not have a rug on another tank so 2-3 tanks of water to do my whole house I think is great!
It does come with an attachment so you can clean your rugs and carpets as well, I have not had the chance to use those pieces but if it is anything like the hardwood floor cleaner I will be dancing around my house some more 🙂
As you all know I firmly believe in spending money for quality, I have learned over the years that spending a little extra on a high quality product is better on our long term budget then buying a cheapo product over and over again, so while the price tag might be a little out of what you are looking to spend on a floor cleaner, for me the quality is well worth the price tag it has, especially since once you buy it there is nothing more to buy again!
Facts about the HAAN SI75
Kills 99.9% of germs, dust mites and bacteria in 1 second and only a few seconds of going over a dirt spot to have it gone

Chemical free – uses 100% steam to safely clean & sanitize around children & pets – which also means saving money because you don't have to buy cleaning products!
20 second heat up time – Can't beat that!
Includes carpet glide to refresh carpet with 2 reusable ultra-microfiber pads for extra cleaning
Includes 6 piece deluxe attachment kit with extra long extension hose- which means super easy cleaning for the touch spots in your house like behind the toilet!
You can purchase this product on Amazon
Disclaimer: I was provided this product to facilitate my review. No compensation was received and all opinions are 100% my own.
Join the newsletter
Subscribe to get our latest content by email.