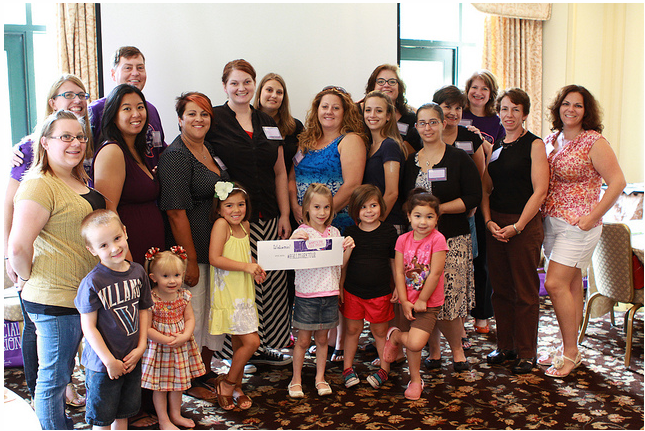 A few weeks ago the kiddos and I attended an event in Philadelphia (yes it was the same day my car got towed) and it was a fun event that really gave insight to me on the focus of the Hallmark brand and what they want to bring to us, the consumer. I am a big fan of Hallmark, I love the Blooming Expressiona and recordable storybooks that they came out with a few months ago and the Interactive Storybooks and Buddies.
But what was most interesting to me that I want to share with you is the focus that Hallmark has on having everyone remember the important moments in life, the memories that we have with our friends and family and that we should cherish them and make sure that our friends and family are an important part of our lives and that they know it. There are times when a friend just need a pick me up and you don't want to send just a "normal" card and Hallmark has cards for those times as well as all the other events in our lives.
We were asked to write down a tip we would tell our children that we learned while we were growing up. Mine was "Start the school day with a smile even if you had a rough morning.".
Hallmark wants us all to not forget the important things in life and the memories that we gain through out life. As our children grow (and for those with grown children) time goes fast and even though mine are still young those memories of them when they were younger are something that I deeply cherish. I know that when I get a card in the mail from a family member or friend just showing me that they care means a lot to me and I really love that Hallmark has us in mind and is making cards that are for everyone and every time that we would need one along with other products like the Storybook Buddies that are great for the right before bedtime story at night with my kids.
While we were there Hallmark had cards out for us to write in and then send them to our friends and family members (They were awesome and mailed them for us) and when I got the phone call from my mom telling me she loved the card I sent her I could hear the smile on her face, it is those moments that are important in life. Living 2 hours away from my mom is hard sometimes because while we can not live under the same roof, living closer would be nice and sending her a card in the mail is a small way that I can show her just how much she means to me and it brightens up her day as well.
I challenge you to spread the love to your friends and family, getting a random card in the mail makes anyone smile when they open it 🙂 Send them a card, handmade or store bought and just show those that you love how much they mean to you.
Disclaimer:I was invited to the event and I was under no obligation to write a post, but I wanted to share it with all of you. 
Join the newsletter
Subscribe to get our latest content by email.
This post may contain affiliate links. Please read my disclosure policy here