Have you seen the Squawkin' Egg Droppin' Hen from Hallmark? If not I am SUPER excited to share this with you because it has become one of my kids favorite Easter decorations and it is super cute!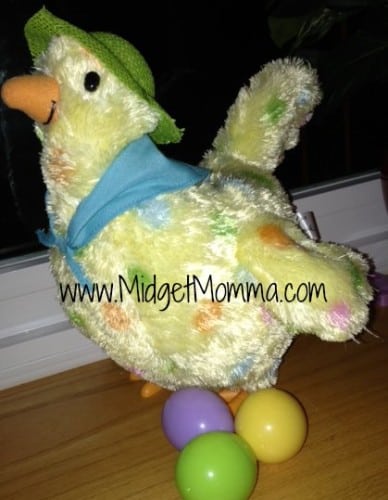 During Christmas time I have the stuffed snowmen from Hallmark that sing and dance and they have always been my kids favorite Christmas decoration, mostly because it is one that they are allowed to touch and they are a TON of fun! Well Hallmark has out done themselves in the eyes of my kids with the Squawkin' Egg Droppin' Hen, the kids all told me she is even cooler then the snowmen! In our house that means alot!
So what is the Squawkin' Egg Droppin' Hen, she is this super spunky, singing hen that lays eggs! The perfect edition to your Easter decorations and fun that the kids can touch. I can go on and on about this hen, but it won't do her any justice so check out this video!
but please don'e blame me if your kids see it and start saying,"Mommy, Please I want it, please Mommy!" or at least that is what happened in our house!
Isn't she just the cutest thing and super fun! The price is $15.95 which is a totally awesome price for a fun Easter Decoration that the kids can play with that is super fun and cute! You can purchase her in your local Hallmark stores.
Disclaimer: I was provided this product to facilitate my review. No compensation was received and all opinions are 100% my own!
Join the newsletter
Subscribe to get our latest content by email.